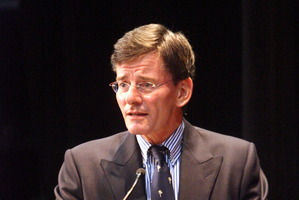 A Treaty Settlement bill that passed its first reading in Parliament today will see volcanic cones, and four small islands in the Auckland region, including Rangitoto, returned to the Tamaki collective.
The settlement involved 15 volcanic cones and the small islands, known as motu.
Under the Nga Mana Whenua o Tamaki Collective Settlement Bill the islands of Rangitoto, Motutapu, Motuihe and bird sanctuary Tiritiri Matangi will be vested in iwi before being gifted back to the Crown for the benefit of all New Zealanders.
Minister of Treaty of Waitangi Negotiations Chris Finlayson said the bill would now go to the Maori Affairs committee, which would hear submissions and consider the bills before returning them to the House of Representatives for their second readings.
``Our accelerated progress resolving historical Treaty of Waitangi claims means that we have more Treaty legislation before the house each year.''
The Government has had to extend sitting time in Parliament to allow for the bills to be progressed.
A spokesman for the Minister said 14 of the 15 volcanic cones that will be transferred the Tamaki collective's ownership would be collectively managed with the Auckland Council, which would comprise half of a governance board.
Mount Mangere would not be governed by the iwi group.
North Head, will continue to be run by the Department of Conservation.
He said the islands being given back to the iwi group then gifted to the Crown after a month for the good of New Zealanders was symbolic.
Mayor of Auckland Len Brown said the iwi had worked together in an unprecedented way, with Auckland Council and the Crown to secure the volcanic cones and small islands.
``Our maunga and motu are deeply important to all Aucklanders, mana whenua and others and this secures and future of our iconic landscape and our historical, cultural and spiritual heritage sites, along with public access and use rights,'' he said.
The Maungaharuru-Tangitu Hapu Claims Settlement Bill will give effect to the settlement of the historical Treaty of Waitangi claims of Maungaharuru-Tangitu Hapu, and the Nga Punawai o Te Tokotoru Claims Settlement Bill will give effect to settlements reached with Ngati Rangiwewehi, Ngati Rangiteaorere, and Tapuika.
The broad cross party support for the bills brings the people of Ngati Rangiwewehi, Ngati Rangiteaorere, Tapuika, Maungaharuru-Tangitu Hapu and Tamaki Makaurau closer to enjoying the benefits of settlement, Mr Finlayson said.
``It demonstrates the importance of resolving all historical Treaty claims in a fair, just and timely way.''
Copies of the deeds of settlement are available on the Office of Treaty Settlements' website.
- additional reporting Brendan Manning
- APNZ