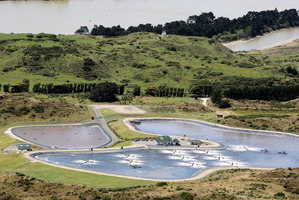 Wanganui District Council will sue engineering consultants MWH over failures at the council's wastewater treatment plant.
Mayor Annette Main yesterday confirmed that the council will file court proceedings against MWH by the end of August.
The decision was made by councillors at a closed session of an extraordinary council meeting on Monday.
The Wanganui Chronicle understands the decision was unanimous, although at least one councillor - Clive Solomon - had given his apologies for the meeting.
The proceedings relate to MWH's involvement in the concept and final designs of the district's malfunctioning wastewater treatment plant.
Ms Main said she would make no further comment on the matter while the legal process was in progress.
A confidential report on possible legal action written by Kensington Swan said the council had a potential claim against MWH for the negligent provision of design services but it was in weaker position in terms of a claim against consultants Opus and URS, which did a peer review of the plant design in 2004.
However the Kensington Swan report raised several reasons why the court action may not be successful, incomplete paper trails and ignoring professional advice.
The report by legal advisers Kensington Swan was tabled at a public-excluded council meeting on June 24.
The legal team was asked to review which of the professional consultants involved in the wastewater plant could be held liable and from whom the council might consider seeking compensation. Failures with the plant, which opened in July 2007, are set to cost $24 million to fix and the council was considering claims of up to $10 million for negligence.
The announcement of the legal action, released at 5pm last night, did not say how much the council is suing for.
For more articles from this region, go to Wanganui Chronicle