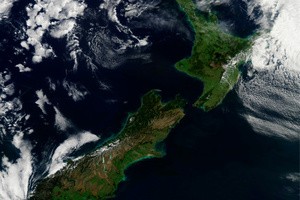 The majority of New Zealanders want the names for the country's two main islands to remain the same, the results of a public consultation reveal.
The consultation came after it was revealed 'North Island' and 'South Island' were never official names.
The New Zealand Geographic Board (NZGB) proposed that the islands be known by both their English and Maori names: 'North Island' or 'Te Ika-a-Maui'; and the 'South Island' or 'Te Waipounamu'.
Proposals on what the two main islands should be known as closed on July 5, and the NZGB met yesterday to consider the submissions.
Now, the NZGB will recommend to Maurice Williamson, Minister for Land Information, that New Zealanders be given a choice about whether to use the English or Maori names.
NZGB chairman Dr Don Grant said they were encouraged that the overwhelming majority of public submitters wanted the choice.
In total, the board received 2608 submissions from 1329 submitters.
Of the submissions, 1842 were in support of one or more of the proposals and 766 were opposed to one or more - 64 percent supported Te Ika-a-Maui; 65 percent supported Te Waipounamu; 87 percent supported North Island; and 88 percent supported South Island.
"The numbers were not the main consideration," Dr Grant said.
"The board is guided more by the reasons provided by submitters for their support or objection.
"The board carefully considered the supporting and opposing submissions, and this has informed its recommendations to the Minister."
The NZGB will now put its recommendations into a report which, along with submissions, will be sent to Mr Williamson for his final determination.
Submissions will not be released until the Minister has made and announced his decision. When that happens, it will be gazetted as official and notified publicly.
- APNZ