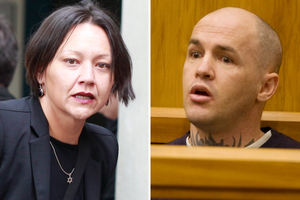 It was "completely implausible" that Corrections officers conspired against convicted murderer and rapist Liam Reid, Judge Russell Collins said today, as he found lawyer Davina Murray guilty of smuggling contraband to Reid in prison.
The verdict was delivered at Auckland District Court this morning after a seven-day hearing finished last week.
Judge Collins said the case, distilled to its essence, was simple.
Other than the evidence of Liam Reid there was no evidence to support the proposition that the presence of the iPhone, packet of cigarettes and cigarette lighter in Mt Eden Correctional Facility on October 7, 2011 was the result of a conspiracy between Corrections Officers, Judge Collins said in his decision.
"In light of all the evidence in this case I have no difficulty in rejecting Mr Reid's evidence. It was completely implausible.
"Supported by a number of pieces of compelling circumstantial evidence I accept the evidence of [the] Corrections Officers," he said.
Judge Collins said he was satisfied beyond reasonable doubt that the three items were introduced into Mt Eden prison by Davina Murray.
Murray had defended herself during the hearing, aided in court by her former boss Barry Hart, who was struck off the Law Society's register this year for overcharging, after a 46-year career.
She is likely to face a Law Society investigation.
A society spokesman said last week he could not comment on individual lawyers, but in general, the Law Society would look into any lawyer facing criminal charges.
The Crown told the hearing that prison guards seized the items from Reid after he had a visit from Murray.
Reid, serving a 23-year sentence for raping and killing deaf woman Emma Agnew in Christchurch in 2007, and the rape, attempted murder and robbery of a 21-year-old student in Dunedin nine days later, said the items had been planted.
A second charge of passing on information which endangered the safety of a prisoner was dismissed after the Crown conceded it was laid outside the six-month time limit.
During the hearing the Crown alleged Murray and Reid's relationship went beyond that of client-lawyer.
Police say text messages they took from her cellphone showed Murray planned to marry Reid inside prison.
In one of the messages, Murray asked a friend in Australia to come to New Zealand.
"... Need to smuggle in 2 witnesses into jail as my staff to witness my wedding."
Murray discussed wedding vows with the friend and acknowledged the secret marriage could jeopardise Reid's appeal.
"My heart says 'I should just do it', but my head says 'wait'."
Police prosecutor Anna Longdill said Murray visited Reid 61 times over eight months at Paremoremo and 19 times over six weeks at Mt Eden.
The hearing was punctuated by flashpoints between Murray and Judge Collins. On the fifth day Murray made a series of applications for the charge to be dismissed, blaming police and the judge for failing to give her a fair trial.
An apparently exasperated Judge Collins accused Murray of "wasting time" with a "meaningless, drivelling submission that is designed to timewaste and get to an adjournment".
Murray has been remanded on bail until September 6 when a discharge without conviction application will be heard.
- APNZ