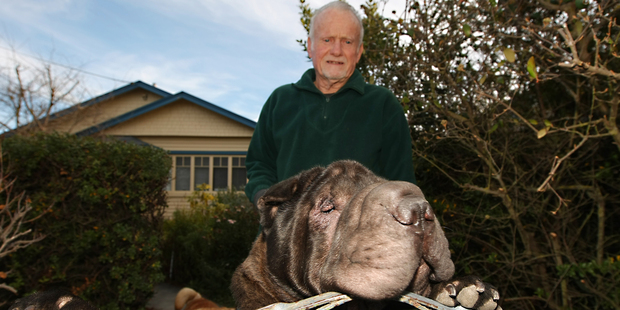 Col Sheehan has survived a brush with death - and he thanks dog for that.
Three weeks ago Mr Sheehan was enjoying a few holes at the Tinwald Golf Course before his pet very likely saved his life.
"I was walking up the fairway toward the seventh hole, when I felt a bit of a twinge in my chest," Mr Sheehan said. "I just thought I must have strained a muscle, but I wasn't feeling too good, so I put my clubs in the car and went back home," he said.
At his Ashburton residence Mr Sheehan had a shower and still feeling minor pangs in his chest, decided to lie down and rest. But his dog Cola had other ideas. The two-year-old Shar-Pei jumped up on the bed with him.
"The dog annoyed the hell out of me - he was licking my face and carrying on, there was no way I was going to get any rest - he just wouldn't give up either," Mr Sheehan said. "He was carrying on like something was wrong - and he was right."
All the while the family's other dog, Fanta, was barking in the bedroom doorway.
Eventually Mr Sheehan got up and went in search of liniment. When he couldn't find any, another thought occurred to him.
"My brother had died of a heart attack in bed about 12 months ago," he said. "So on the way past I picked up the phone and called the medical centre."
Mr Sheehan was ordered to waste no time in getting to the doctor, and following an examination was sent straight through to Christchurch Hospital. There he underwent surgery to have stents implanted in his heart to keep the arteries open and restore the blood flow.
"They say dogs can sense these things, now I believe it," Mr Sheehan said.
It will be a month or so before he is back on the golf course, leaving plenty of time to spend with Cola, who was still keeping a protective eye on his master when the Guardian visited this week.