Signs offer assistance to disabled but staff reject arthritis sufferer's pleas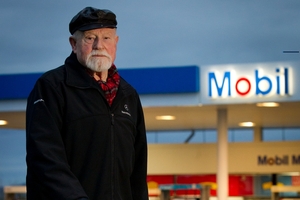 An elderly man with arthritis in his fingers was denied help pumping petrol at a service station despite signs saying the station would assist the disabled.
Phil Fewings said he would never go back to the Mobil Clearview on St Heliers Bay Rd, Auckland, because of the way he was treated.
"I was left totally disappointed ... I was flat out refused help."
---
Send your story, photos or video here.
---
Mr Fewings, 82, of St Johns, has painful arthritis in his fingers and it aches when he uses them for fiddly tasks. He has a disability card because of his condition.
He said there were two people working on the Sunday afternoon he visited the petrol station.
He asked one to help him fill his car with petrol, but the man refused.
"He shook he head and said 'No' and I said, 'No?' He again shook his head and said, 'No'. I brought his attention to the fact that on the Mobil window there was a sign which quite clearly stated, 'We help the aged and handicapped'."
But the man continued to refuse to assist him so Mr Fewings left for a Z station in Orakei where he was served petrol and both his car windows were cleaned.
The manager of the Mobil station, Anup Kumar, was apologetic about how Mr Fewings was treated and said it was not acceptable.
It was not the company's policy to deny service to those who needed it and Mr Kumar said he would speak to staff to make sure it did not happen again.
"This has obviously happened but thank you for letting us know about this because if it happened with him, it could happen with any other customer as well and it shouldn't be happening."
Mr Kumar wanted to offer Mr Fewings a free coffee or a gift to apologise for the error.

Forecourt service policies
• BP: Assistance is available for those who request it.
• Mobil: Staff are meant to assist the elderly and disabled if they require help.
• Gull: Each site is independently operated but Gull said it would hope attendants would assist those who needed and asked for it.
• Z Energy: Assistance between 10am and 5pm. Outside of those hours, help is available to people who request it.
• Caltex: Did not respond to Herald queries.