Protecting vulnerable road users such as cyclists and pedestrians requires more than harsher laws, says researcher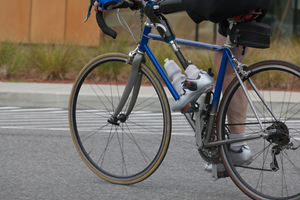 New research has cast doubt on whether tougher penalties are the answer to lowering injuries to cyclists and pedestrians caused by careless driving.
The study, by Otago University injury prevention researcher Professor Hank Weiss, found more stringent laws, on their own, were not having an effect.
"In New Zealand, only toughening laws to protect vulnerable road users and expecting a measurable effect on driver behaviour is naive, and is more about justice than deterrence," Professor Weiss said. Instead, a combination of factors were identified as more likely to protect people.
He began analysing crash statistics about two years ago. "After recent cycling deaths we were interested in the question of whether increased penalties aimed at drivers that are deemed at fault (would) make a difference from an injury prevention perspective."
Often in injury crashes there was an emotional response for people to get punished, "and we wanted to differentiate those natural emotions from what is going to prevent this from happening in the future".
The situation with careless driving was very different to that of dangerous driving. "Careless driving is different altogether ... People don't often engage intentionally in that behaviour ... They make an error unintentionally, they might not even see the other person, cyclist or motor vehicle." But the punishment was all about what to do with the person after the event. "It's not actually about trying to deter people from it in the first place."
A police spokesman said improving safety was not reliant on one single solution and required a collaborative approach.
"This includes not only police and its road safety partners, but also all road users, who have a shared responsibility for driving, walking and cycling safely on our roads."
Cycle Action Auckland spokeswoman Barbara Cuthbert said all cyclists wanted was decent infrastructure. "It's a practical thing. It's putting in front of cyclists a route they're confident in and takes them from A to B (and) doesn't leave them at the very point they need it."
But she said there had been a vast improvement in numbers of people cycling, and she was positive about the future.
"There was an 11 per cent increase in cyclists in the Auckland region last year, including 27 per cent more using the North Western cycleway. And that's on top of a similar one last year. With more cyclists on the road the culture changes - people look for what they expect (and) they're expecting cyclists because they are part of the road scene."

Suggested changes
What could lower the number of people being injured in careless driving causing injury crashes:
• Slower traffic on suburban roads.
• Separate vehicle from vulnerable road users.
• Design safer intersections.
• Cycle lanes.
- Source: Otago University study