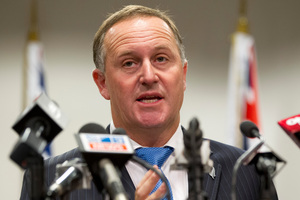 Prime Minister John Key. Photo / Mark Mitchell
The Prime Minister sounds genuinely surprised that somebody in a company operating Parliament's telephone system would give the records of a journalist's calls to an inquiry the Prime Minister had commissioned. John Key must not know his own power.
After more than four years in Parliament's highest office, he ought to know the shadow it casts over the public service and be wary of it. When an investigator acts in a PM's name it is a brave government employee or contractor who would stand in his way.
The phone company was contracted by the Parliamentary Service, a back-office operation that largely attends to the working needs of MPs. It was set up by Sir Geoffrey Palmer to serve the legislature, not the Executive, but in a parliamentary system the distinction is seldom clear.
Ministers are also MPs, the Prime Minister is the most senior of them. When an emissary from his office is anxious to find out how a document has got into the public domain, the Parliamentary Service would be inclined to help.
It is easy to say in retrospect that the most junior contractor should have known to stop short of revealing the telephone and swipe-card records of a journalist in the building. This happened before the debate over the use of "metadata" by the Government Communications Security Bureau and allied security agencies had reached its present intensity.
It should be obvious to anyone, of course, that the press cannot perform its democratic function if it is unable to communicate in confidence at times with MPs of all parties in Parliament. But that may be more obvious to politicians than those who serve them.
The Prime Minister ought to have been alert to the risk that something like this would happen when he started a witch-hunt over the early release of the Kitteridge report into the GCSB. When he reflects on the continuing saga of embarrassments he might come to the conclusion that the root of it all is his own impulse to launch inquiries into things that do not warrant them.
He could have learned this lesson from the "Teagate" incident at the last election. A misplaced microphone that picked up some tidbits of a discussion that was a staged electoral stunt in any case, became a fully fledged police inquiry of his instigation. His overreaction achieved nothing except to ensure the subject dominated the election at his undoubted cost.
When the Kitteridge report was leaked to a member of the parliamentary press gallery a week before it would have been released anyway, Mr Key put former Inland Revenue Commissioner David Henry on the case.
The PM was naturally angry. He had been on a visit to China and the report, revealing Kim Dotcom was not the only New Zealand resident to have had his communications illegally monitored by the GCSB, was an annoying distraction during a diplomatic mission.
It was no more than that; the report was going to be released anyway. Its leak was inconvenient and no doubt disturbing since it must have come from somebody inside his Government. But that happens; Parliament is an intimate place.
If the inquiry had been concerned with something serious - a security breach that put lives at risk perhaps - its purpose would outweigh other considerations and its methods probably would not be coming under the same scrutiny.
The Prime Minister is being seen as high-handed on a number of issues lately. He may need to remember the weight of his office when next he wants to find out something that is hardly worth his trouble.
Debate on this article is now closed.