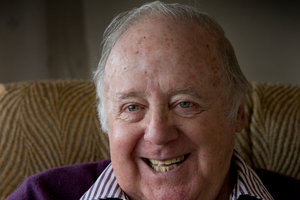 An Auckland eye surgeon has performed the first operations in Australasia using a ground-breaking implant to treat the blinding effects of glaucoma.
Dr Mark Donaldson of Eye Doctors operated on two patients in April at Ascot Hospital in Ellerslie using the new Glaukos iStent implant, which reduces the recovery time for sufferers.
Dr Donaldson said the iStent was an important advance in the surgical approach to glaucoma, an eye disease which if left untreated can cause blindness.
"Previously, surgery for glaucoma took many weeks to heal and stabilise. The iStent is not only effective but it has also dramatically reduced recovery time following surgery."
Auckland man David Garrett, 77, had the operation after an eye test identified glaucoma.
The retired caterer was advised to have laser surgery, which he did, but nagging concern about the pressure prompted him to visit his regular eye specialist, who referred him to Dr Donaldson.
The specialist "just about jumped through the ceiling", Mr Garrett said, when the pressure in his right eye was found to be more than double the healthy level of 16mm of mercury.
Mr Garrett had an iStent inserted into the eye in April and together with drops in both eyes the results have been good.
Had the problem not been spotted, "I had the impression that I would have gone blind in that one eye".
The surgery, which costs more than $5000, was covered by health insurance.
Dr Donaldson called glaucoma "a dreadful disease".
"It's irreversible loss of sight from high pressure in the eye ... When it becomes symptomatic it generally means the nerve's gone too far."
The pressure causes the optic nerve to waste away but sufferers don't know they have it because the brain paints in the lost peripheral vision.
There are about 89,000 sufferers in New Zealand. From age 45, people should have their eyes checked every five years. Babies and children can also develop the disease.
Treatment is usually eye drops but for about 2 per cent of sufferers surgery is required. That surgery is a trabeculectomy, where a hole is made in the wall of the eye to let fluid diffuse underneath the skin of the eye.
"For people who need it it's a marvellous operation but it can take three months to get over and it's not offered to people upfront with a diagnosis of glaucoma because ... it has a success rate of about 80 per cent over five years," said Dr Donaldson.
"So this new procedure opens the door to a surgical solution to quite a few more people."
July was glaucoma awareness month.
The smallest implant used in medicine, the Glaukos iStent is a 2mm titanium snorkel that creates an exit passage for blocked eye fluid from the inside out, relieving the pressure that causes glaucoma.
More than 10,000 iStents have been implanted worldwide, the majority in Europe and the United States.
Dr Donaldson said the implant was promoted at a conference he attended in Chicago in November but it only became available to New Zealand this year.