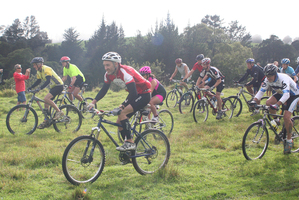 Maori landowners opposed to the Far North coast-to-coast cycle trail going through their property are ready should the district council slap a trespass notice on them.
Some owners of land at Jacob's Ladder, south of Kaikohe, last week vowed to block workers and machinery from starting work on a stretch of the Pou Herenga Tai - Twin Coast Cycle Trail.
Maori landowners and supporters had a road block in place on Monday morning after being told the Far North District Council would issue a trespass notice to clear the way.
The would-be protesters blocked access to the rail corridor and hung about enjoying an open-air breakfast, but the trespass notice discussed at last week's FNDC council meeting did not eventuate.
Kaumatua Ron Wihongi said the group had gathered to show solidarity in case the council went ahead with that action.
The Maori land owners' objections include concerns that cyclists or walkers might not respect burial grounds and other waahi tapu sites the trail passed.
The Crown originally took over 100 acres - more than was needed for the railway - under the Public Works Act but when the railway became redundant over 40 years ago, the land was never returned to iwi, Mr Wihongi said. That is the subject of a pending Waitangi Tribunal hearing, expected next month.
Mr Wihongi said that despite several meetings between the parties, the FNDC refused to budge, even though the landowners have suggested two alternative, very scenic routes.
"They know our stance," he said. "We don't want it through our land because if the track is open we can't stop anyone coming through. It provides easy access to farmland and privately owned bush. It goes past our homes and urupa. There's no guarantee the visitors will respect our waahi tapu.
"Then there is the matter of the unresolved Waitangi (Tribunal) hearing."
The council had agreed to build a three-metre-high fence to offer privacy where the trail passed private dwellings, FNDC communications manager Richard Edmondson said.
No date had been set to issue a trespass notice and the council wanted to meet landowners again in the hope agreement could be reached.
At last week's meeting Kaikohe Hokianga Community Board chairman Wyn Stevens said the council should appeal to the Government for support. Mr Stevens said the trail was of national significance and therefore Government backing was required to resolve issues of access to Crown land.
The FNDC negotiated with landowners between Horeke and Okaihau to allow the cycle trail across land where there was no rail corridor.
For more articles from this region, go to Northern Advocate