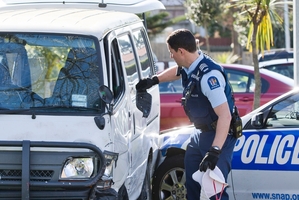 A home-owner was almost run over as he clung to the bull bars of his own van which was being used as the getaway vehicle in a daylight burglary.
The incident led to a police chase through lunchtime traffic from Remuera to Pakuranga, during which four police cars were rammed and damaged.
The incident began on Green Lane East about 12.40pm, when the home-owner arrived at his property as it was being burgled.
He pulled into the driveway and spotted a man loading items from the house into his Toyota HiAce van.
"He thought it was his son putting things in his van. But he soon realised it wasn't," said neighbour Jock Matthews.
"He attempted to prevent the burglar escaping.
"He put himself in front of the van and the guy just drove.
"He tried to stop him, he was holding the bull bars at the front of the van."
The home-owner was knocked aside, suffering minor injuries.
Mr Matthews, who runs a business from his home, was alerted to the incident by his office manager, who said she had heard "distressed yelling".
He ran next door to check on his neighbour. "He was quite visibly shaken, very, very traumatised. It was very scary for him. As soon as I got there he said 'please call the police'."
Within three minutes of the 111 call, police had deployed the Eagle helicopter and spotted the van travelling along Remuera Rd.
Inspector Shawn Rutene said the alleged offender was driving dangerously, passing cars on the inside of lanes and deliberately driving into oncoming traffic as he made his way to Pakuranga via the Southern Motorway.
As officers used road spikes to try to stop the van, the alleged offender rammed two patrol cars and carried on to Ti Rakau Drive and then into Kentigern Close - a dead-end street.
Mr Rutene said four patrol cars converged on the van.
A man was arrested and was speaking to police last night.