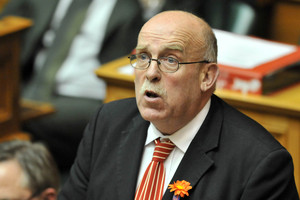 Former Cabinet minister David Benson-Pope is planning a political comeback.
Mr Benson-Pope, 63, a five-term Dunedin city councillor before entering national politics, yesterday said he would stand again in October's local body elections for a council seat.
He is the fifth candidate confirmed as standing in the council's 11-seat central ward.
Mr Benson-Pope left national politics in 2008, after becoming embroiled in scandal over allegations he mistreated pupils while a teacher in the 1980s.
He was eventually sacked as a Cabinet minister following separate claims he misled the public, and later lost the Labour Party nomination for the Dunedin South electorate to Clare Curran.
Mr Benson-Pope said he hoped his critics had moved on.
"I have - I don't know whether other people have or not.
"Part of me has asked myself if I haven't had enough of that, but you can't really take the politics out of the boy. My prime interest has always been the welfare of Dunedin."
Asked yesterday if he had learned lessons from his experiences, Mr Benson Pope would only say he hoped he was "older and wiser".