5-year-old's 111 call for diabetic mother earns him a police award.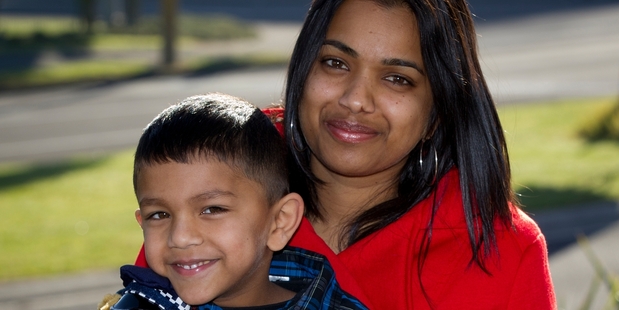 Ashika Ali knows she has her young son to thank for being alive - the 5-year-old boy kept her warm, gave her water and called 111 when she slipped into a diabetic coma.
Mustafaa Ali learned what to do in an emergency during a police visit to his preschool and yesterday got a certificate of appreciation (albeit with his name spelled differently) for his "extreme care" in caring for his mum.
He was at home with her last month when she lost consciousness on the couch. At first he thought she was sleeping and covered her with a blanket so she didn't get cold.
But when she still didn't wake up hours later he called 111 for help.
At a ceremony at Counties Manukau police station yesterday Ashika Ali could still hardly believe what her son had done. "He did a great job, I'm really proud of him."
When she regained consciousness her family told her what happened.
"He managed to look after himself and me. He was able to tell me the whole story himself, what he'd done."
She was grateful for the lessons Mustafaa had learned, but never would have imagined she would be the one who needed them. "You don't think it will come to use ... If it wasn't for that I wouldn't be here today."
He reminded her of it often. "He tells me: 'Mummy I saved you' ... He's great, he's my life."
Clutching his award and a police teddy bear yesterday, Mustafaa said he called the "Fire Truck lady" to say his Mum was sick. "They came to my school and showed us how to ring 111," he told the Herald.
Mustafaa's father, Iftikar Ali, said he was very proud. "He saved her life. Because he stayed the whole night with her and he told me he wondered if he should call 111 when he was in bed. He put the blanket over her and thought 'should I call 111 now?'
"He tucked her in and tried to give her some water but she didn't want it ... He got tired and then went to bed and when he woke up she still wouldn't move and he thought his Mum was dead so he called police."
Mr Ali said his son's award was exciting for him, but also for the police officers who taught him what to do.
Constable Lance Mulu, of the Mangere East Neighbourhood Policing Team, said the preschool visits were a key part of the Prevention First strategy.
He was thrilled Mustafaa had put what he'd learned into action. "With prevention you never really hear anything good - because if you prevent it it doesn't happen - so this gives us a sense of satisfaction."
He remembered speaking to the class. "Usually at that age you don't really expect kids to remember everything so you make it really fun ... so I definitely remember going in."