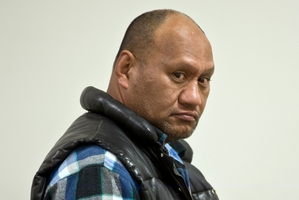 An Auckland man nearly three times over the legal alcohol limit allowed a 7-year-old to drive him home.
The boy had to sit so far forward on the seat his chin was centimetres from the steering wheel.
Tehere Maihi Maaka, 49, who has three previous convictions for drink-driving, had suffered a "breakdown in family relationships" on January 18 when he allowed the boy to drive his BMW.
He was yesterday jailed for 10 months after pleading guilty to allowing the boy to drive, dangerous driving, and driving with excess breath alcohol.
A police unit saw the car drive past them at about 12.30pm with the boy in the driver's seat. Maaka was helping guide the steering wheel with his right hand as they rounded a corner.
Soon after, they went through an intersection, and even with Maaka's assistance, the boy was unable to stop the car hitting the kerb and coming to a halt.
Police found Maaka was clearly affected by alcohol, his sentencing hearing at the Auckland District Court was told.
He was found to be nearly three times the legal limit, recording 1059 micrograms of alcohol per litre of breath.
The court heard he pleaded guilty early and it would take time for him to forgive himself for what had happened.
His sister, Clara Maaka, said she was sure he could become a "productive" member of society.
She told Judge Christopher Field she believed she could help him overcome his addiction to alcohol and other issues if he "allows me to help him".
But Judge Field said a sentence of imprisonment was inevitable.
"You placed a child in serious risk, you're a recidivist drink-driver and driving under the circumstances caused enormous concern for the community."
Maaka was also disqualified from driving indefinitely, and will have to apply for a zero alcohol licence, which lasts three years, when he is released from prison.