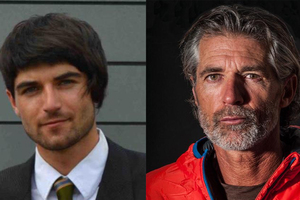 A man who inspired a generation of Hawke's Bay people to embrace the outdoors is believed to have died with his son, while the pair were on their latest adventure - climbing the world's second highest mountain, K2.
Marty Schmidt, 53, and his son Denali, 25, were reported missing on the mountain in the Karakoram Range which spans Pakistan, India and China. The pair had not been heard from for two days.
New Zealand Alpine Club general manager Sam Newton said all indications suggested the two had died in the avalanche at Camp 3 (7400m) on either July 26 or 27.
"More details will emerge in the coming days and tributes to Marty's extraordinary character and achievements will follow. Right now, our thoughts are with the friends and family who have suffered a tremendous loss.''
Mr Schmidt, originally from California, lived in Hawke's Bay up until about five or six years ago and was based in Christchurch prior to his climb on K2.
Denali had attended Taikura Rudolf Steiner School in Hastings and his father had worked with pupils there to encourage them into outdoor activities.
Hawke's Bay man David Tait, director of the Kiwi Adventure Trust which organised the Triple Peaks race, said Mr Schmidt had been an inspiration to many people in the region.
"Marty was a special guy. He had a huge impact on Hawke's Bay during the time he was here, especially on the (Taikura) school getting kids into outdoor stuff.
"He certainly had an impact on me. I must have been about 19 when I first met him. I remember asking him for nutrition advice about what I should eat before racing in the Triple Peaks and he told me a peanut butter and jelly sandwich worked well for him.''
Mr Tait said he remembered Mr Schmidt ``just turning up``to compete at the Triple Peaks with no training and often on the back of a major climb.
"He would just grab a sandwich, take off and run.''
Mr Tait was shocked to hear the news of the avalanche and agreed it was likely the pair had died. He said tributes had begun to flood Mr Schmidt's Facebook and website pages, and he described the situation as a ``double tragedy''.
"We mustn't forget that a young 25-year-old man has also lost his life. I know Marty was so looking forward to making that climb on K2 with Denali.''
Mr Tait said he hoped the outdoor sport community in Hawke's Bay would come up with a way to remember Mr Schmidt.
"He was an oddity but inspirational. He had a fantastic record climbing so many mountains and on many occasions he turned back because he knew it was the right thing to do.''
Mr Schmidt had contributed a blog to the MacPac website to keep followers informed of his latest climb.
The company updated the site yesterday which said Mr Schmidt and his son had been reported missing.
"Marty is one of the most experienced Himalayan climbers and we have high hopes that he and Denali are alive and well. Our thoughts and prayers are with you both Marty and Denali, we hope to hear from you soon.''
All other climbers on K2 had retreated to Base Camp and abandoned expeditions.
Mr Schmidt started his own guiding business when he was 16. His experience included summiting America's highest peak, Mt McKinley (6194m) 26 times, South America's highest peak, Aconcagua (6956m) 27 times and Africa's Mt Kilimanjaro (5895m) eight times.
He had climbed Mont Blanc eight times, the Eiger three times and the Matterhorn 13 times, and Europe's highest peak, Elbrus (5642m), has borne his boot prints nine times.
He had also climbed Mt Aspiring seven times and Mount Cook 12 times. In the Himalayas, he had summited Cho Oyu (8201m) twice in 2001 (setting a world speed record of 11 hours, 15 minutes), he became the first American (and the second New Zealander) to summit Kanchenjunga (8586m) in 2001, and he made two attempts on Everest (8848m) in 1994 (reaching 8100m before being avalanched).
Mr Schmidt had made two attempts on K2 (8611m) in 1992 and 2000, reaching 8350m on the North Ridge. In 2008, he made his first attempt on Everest's SE Ridge from Base Camp to 8400 meters in 11:30 hours.
In an interview with Hawke's Bay Today Mr Schmidt was asked: What really scares you about climbing? And he replied: "complete exposure''.
"But this also makes me very aware and on the cutting edge which excites me so much. This is why I climb and I feel I will never master this and this is OK with me.''
Mr Schmidt's final post on his Facebook page read: "In Skardu at this moment and loving it. All packed; food and gear into 25kg Balti porter loads and heading to Asskole to start our trek into Broak Peak and K2 base camps. So beautiful with the land and its people. Last FB post. Will be on Sat Phone and dispatches. Cheers, Marty.''
For more articles from this region, go to Hawkes Bay Today