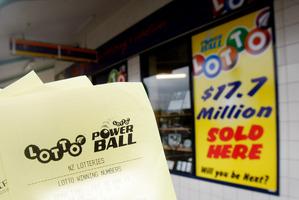 A retired man has become the latest Reefton resident to scoop the Lotto first division jackpot, with a strong cup of coffee to lessen the shock.
He became $2 million richer after buying his ticket at the 'lucky' This That and Lotto store in Reefton.
He found out that he had become a millionaire; twice over; only when he went into the store yesterday morning to check his ticket.
"I've gotten used to the operator telling me that I haven't won every week. But today after checking she asked if I'd like to have a cup of coffee and a talk while she told me the news. At first I thought she must be having me on!" said the winner, who wishes to remain anonymous.
"I was so shocked; I thought I was going to have a heart attack."
The winner was even more surprised, as when he bought his ticket, the operator commented that she believed it could be a special one.
"When I bought my Lucky Dip and the operator saw my numbers, she said it was going to be a lucky ticket as it had all her favourite numbers on it.
Turns out she was right."
The man is already looking forward to spending his winnings on a new car and a house in Christchurch, so he can be closer to his daughter.
"My car has had its day, so I'm definitely going to treat myself to a brand new one.
"It will be so nice to choose whichever one I like and not have to worry about the cost.
"I also want to move to Christchurch, where my daughter lives. And, of course, I'll be sharing some with her as well."
The man plays Lotto every week with Lucky Dip tickets and is keen to keep playing after his win.
"Too bloody right I'll keep playing, it's such good fun."
The latest first division win continues a lucky streak for the Lotto outlet in Reefton. Over the years, through its different incarnations, the store has sold seven first division Lotto winning tickets, a Big Wednesday first division winning ticket, and one Winning Wheel winning ticket.
- The Greymouth Star