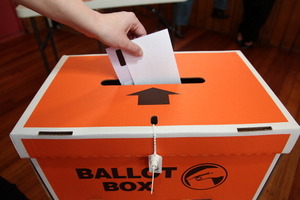 About 70,000 voters have been removed from the electoral roll after failing to update their addresses ahead of the upcoming local elections.
The Electoral Commission sent out 3.1 million enrolment update packs earlier this month but thousands have been returned, marked "gone no address".
The commission said the 70,000 returned packs was equivalent to the entire population of the New Plymouth district; the number of kiwi that live in the wild; the number of people who took part in this year's Auckland Round the Bays run; or all the preschool and school teachers in the country.
Enrolment Services national manager Murray Wicks said local elections were held by postal vote, so it was important people were enrolled at the right address.
"If you are one of the 70,000 or so voters whose pack has come back to us because you've moved house and not updated your enrolment details, you have been removed from the electoral roll, and won't be able to vote unless you re-enrol," he said.
Eligible voters have until August 16 to enrol in time to receive their local election voting papers in the mail.
- APNZ