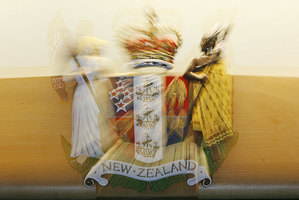 A man who got "dealt to" by whanau members after he allegedly pulled out two knives at a tangi has been remanded on bail.
Anaru Tewao (also known as Morunga), 23, fisherman, appeared in Whangarei District Court yesterday charged with threatening to kill and unlawful possession of two knives. The July 26 incident is alleged to have happened at Moria Marae, at Whirinaki, on the southern Hokianga, while a tangi was underway for a whanau member.
Tewao's lawyer, John Day, said his client also got his brother, Kahu Morunga, 26, involved in the situation, but Tewao was the main protagonist.
Mr Day said Kahu Morunga, who also appeared yesterday charged with threatening to kill a marae member and speaking in a way meant to frighten Moria Marae committee members by threatening to damage the marae, got involved to back up his brother.
Kahu Morunga was remanded on bail until August 19.
Mr Day said Tewao made a complete and utter fool of himself at the tangi last Friday, after turning up drunk and threatening marae and whanau members.
He said whanau members took offence to Tewao's actions and dealt to him.
"He's now sober and very remorseful," Mr Day said.
"He was overcome by grief and remorse and he probably shouldn't have been in the condition he was in on the marae. He wanted to pay his respects but completely lost the plot when he arrived. He drew his brother into it when threats were made.
"The whanau took huge exception to what he was on about and dealt to him ... he came off second best."
Tewao appeared in the dock with his hand heavily bandaged.
Judge Duncan Harvey said he was not surprised by the whanau reaction to Tewao's behaviour.
Judge Harvey said he did not condone people taking the law into their own hands, but he could imagine the whanau being upset by Tewao's actions.
He remanded Tewao on bail until August 19.
For more articles from this region, go to Northern Advocate