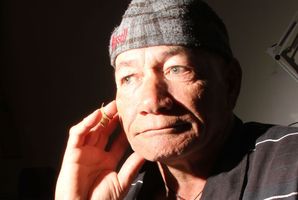 Shearer and rugby stalwart Ariki Reiri, who escaped life in a wheelchair by the skin of his teeth, has spoken out about his year of horror.
Mr Reiri awoke one morning last year unable to move his legs, marking the start of a traumatic 12 months that has only just abated.
The search for the cause of his problem culminated in a major operation on his neck from which he is still recovering - but with the determination to make it back to health and to shearing.
On the morning he awoke to find his legs were useless Mr Reiri, who lives alone, had to fall out of bed and drag himself about the house using only his arms.
"It gave me a hell of a shock I can tell you," he said.
His doctor diagnosed a stroke but Mr Reiri was confident that was wrong.
"I had all my faculties and I knew I had a neck injury back in 2003 that had been fixed with physio so I didn't think I had a stroke."
An MRI scan revealed two discs in his neck had "basically come off the rails" and were squashing his spinal column.
His specialist told Mr Reiri people with lesser problems had ended up in a wheelchair.
"He wondered how in heaven's name I had been able to shuffle along at all."
Mr Reiri went under the knife at Wellington Hospital in April where a lengthy operation on his neck spread the crushed discs, and necessitated two metal plates being inserted in his neck to keep the discs from again encroaching on his spinal cord.
Over the past three months Mr Reiri has been determined to get his mobility back and, although he is making headway, he is far from his former fit self.
He walks as best he can round Henley Lake in company with a "frustrated dog who wants to go faster".
Despite the pain Mr Reiri continued to coach the Pioneer Rugby Club's under-13 team last season.
"At that time I could only shuffle sideways and there was no way I could kick the ball."
Mr Reiri has devoted his life to the Pioneer club, playing at senior level until he was past his mid 40s, and coaching at higher levels as well as at junior levels.
His working life has not exclusively been shearing but has been dominated by it.
"My ambition is to get a handpiece back in my hand by Christmas," he said.
For more articles from this region, go to Wairarapa Times-Age