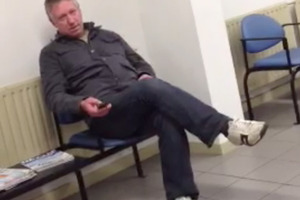 The racist taxi passenger who targeted a Pakistan-born cabbie with a foul-mouthed anti-Islamic tirade has been invited to an 'Islam open day' to broaden his mind on the religion.
The Southland Muslim Association has accepted an apology from Greg Shuttleworth, an Invercargill technician for a local engineering firm, who is being investigated by police for Friday night's outburst which was caught on camera.
Now, association president Dr Wali Kamali has invited Mr Shuttleworth along to the world's southern-most mosque, in an industrial unit in suburban Invercargill.
"I'm more than happy to see him,'' he said.
"We're planning to an open Islam day in the future anyway, which is something we've done before, so that might be a very good time for him to meet us.''
No date has been set for the meeting, but Dr Kamali has indicated it won't be until after Ramadan, the Islamic month of fasting, which ends next month (August).
Mr Shuttleworth has been told to stay away from work and has gone into hiding since the video of his racist rant went viral on Sunday.
There was no answer at his semi-rural Otatara home on the outskirts of Invercargill this morning.
Last night, friends visited him, half-heartedly calling out, "Greg, come out from under your bed''.
Mr Shuttleworth did not appear at the door. But he did phone the taxi company which released the footage to apologise to his victim, former Auckland driver Tariq Humayun.
And as he held back the tears, Mr Shuttleworth vowed to meet the local Southland muslim community to become better educated on Islam.
"He was genuinely remorseful, in tears, saying he was very sorry for what he'd done. I felt bad for him,'' said Mr Humayun's employer, Safinah Mohammed of Invercargill Taxis.
"I told him he had to meet the backbone of the local Muslim community, to see that we're not all terrorists. He was good about that.''
In the exchange in a cab early on Friday, Mr Shuttleworth described the driver as an "Islam prick'' and said: "F*** off back to where you come from''.
He told Mr Humayun he would pay the $7 fare when, ``you tell me that you'll p*ss off back to the country where you come from ... you shouldn't be in New Zealand in the first place ... we don't require your Muslim bulls*** in this country.''
Mr Shuttleworth's partner Angela Fairbrother said yesterday he was struggling with the attention he had received in the last few days.
"He's not doing that well. It's gone a bit out of control but it shouldn't have happened in the first place, eh,'' she said.
Dr Kamali was pleased that Mr Shuttleworth was waiting for "things to settle down'' before they met up.
"I think it's good for him to take some time,'' he said.
Mr Humayun, a close friend of Dr Kamali, was "coping well'', but was also wanting to stay out of the media spotlight.
The driver has indicated he doesn't want police to pursue criminal charges, and Invercargill Taxis will not be laying a complaint with the Human Rights Commission.
- APNZ