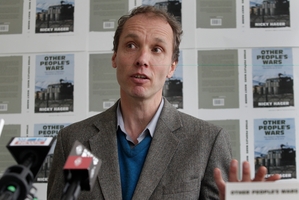 There is "no evidence" surveillance was organised by the military against a Kiwi journalist working in Afghanistan, says Defence Minister Jonathan Coleman.
He said he would accept the assurances of the military but did not go as far as saying the spying had never happened.
The claim by investigative author Nicky Hager has raised serious questions of the military's attitude to free speech, coming as it did with the revelation some journalists were labelled "subversive".
Mr Hager said the spying was carried out by a US agency for NZDF. He repeated the allegation yesterday saying: "There were New Zealand defence personal who had in their hands reports of Jon Stephenson's calls - his metadata."
The information was used to build an information tree revealing his journalistic contacts and sources, he said.
The claims came days after Mr Stephenson and NZDF met in the High Court over the military's handling of a controversial story about the SAS handling of prisoners in Afghanistan.
It had issued - and stood by for two years - a statement saying Mr Stephenson had not been to a military base, which featured in the story, nor spoken to a commander who was quoted. Halfway through the defamation trial, NZDF admitted Mr Stephenson was right and had rejected his claims because it felt under attack.
Mr Coleman said military bosses had searched records dating back to New Zealand's first involvement in Afghanistan. "The evidence is no such metadata collection was ever performed on Mr Stephenson.
"The collection of metadata on behalf of the NZDF by the US would not be a legitimate practice when practiced on an NZ citizen."
Mr Coleman said NZDF was carrying out a review of the orders classifying journalists as "subversive" to "remove those references".
Major General Tim Keating said he had been assured the spying had not happened. "We have identified no information at this time that supports Mr Hager's claim."
Prime Minister John Key also said the Defence Force never asked the US to spy on Mr Stephenson. "We don't monitor journalists and we're not in the business of monitoring journalists. We're the guys who have been standing up for the journalists."
Unusually, Mr Key ruled out Mr Stephenson as a target of interest. "Neither SIS or GCSB have undertaken any surveillance on Jon Stephenson."
The credibility of the Defence Force came into question after its High Court concession that it had labelled as incorrect aspects of Mr Stephenson's story which were accurate.
Former Chief of Defence Force Sir Bruce Ferguson - in charge when the order was made - said he was previously unaware of the "subversive" label. He said some in NZDF did have particular concerns about the media.
Media Freedom Committee chairman Tim Murphy, editor-in-chief of the Herald, said continuing scrutiny of the Defence Force was critical. "They said he never went to the base or interviewed the commander - so who do you believe?
He said the thinking behind the "subversive" label needed to be "eradicated from Defence before it is used against others".
Who says what
What's the allegation?
Author Nicky Hager claims NZDF, using a US intelligence contact, spied on journalist Jon Stephenson while he was in Afghanistan.
What does NZDF say?
Defence Minister Jonathan Coleman said there was no evidence. NZDF likewise says it has no information to support the claim.