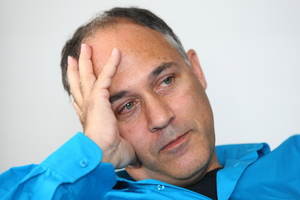 Author and Investigate magazine editor Ian Wishart is being sued by a former diplomat and businessman over the way he was portrayed in a recent book.
The civil defamation case, brought by London-based former diplomat and civil servant Lindsay Smallbone, opened before a jury in the High Court at Wellington this morning.
Mr Smallbone alleges he was defamed in a 2011 book, The Hunt, which was co-authored by Mr Wishart and George London, the husband of Mr Smallbone's ex-wife Paulette London.
The book tells the tale of a child abduction case involving two of Mrs London's children from another marriage, who were taken from her more than 30 years ago before being reunited recently as adults.
Mr Smallbone is suing the book's co-authors, his ex-wife and Mr Wishart's publishing company.
He first learned about the book's allegations from his parents, who sent a copy to him in London from their home in Lower Hutt.
Mr Smallbone told the jury he was startled to read his ex-wife's "wild, sleazy tale" about their marriage of some 40 years ago - a tale which he said was "completely fabricated and untrue".
In the book, Mrs London said he was addicted to pornography and strip clubs, fantasised about sex with men at his church and forced her into sex shows while travelling overseas.
Mr Smallbone said the allegations left him with a "tight ball of anxiety" in his stomach.
"That tight ball has not gone away since."
He said he agonised about what to do, but once he realised the book had received widespread national and international coverage, as well as being viewable on Amazon.com, he had no choice but to take legal action.
"I was extremely distressed about this massive publicity."
Mr Smallbone was also upset by Mr Wishart's claim on his website that there was interest in turning the book into a film.
"I winced as I imagined actors auditioning for Lindsay Smallbone, the shady pervert ex-husband," he said.
Mr Smallbone said the authors made no attempt to contact him for comment before the book was published.
His lawyer, Peter McKnight, said the defendants had not backed down.
He said it was upsetting that Mr Smallbone had to sue his ex-wife over comments she made almost 40 years after their marriage ended - but people's reputations, once lost, were difficult or impossible to recover.
Justice Joseph Williams told the jury of six men and six women that the plaintiff had to prove all the ingredients of defamation on the balance of probabilities.
He said they should reach their decision objectively, rather than relying on emotion, intuition or sympathy.
"This is not a court of morals and this is not a popularity contest - this is a court of law."
The case will hear from 29 witnesses over the next five days, including investigative journalist Nicky Hager, who will give evidence about the checks he would have made before publishing the allegations.
Mr Wishart is representing himself and his publishing company.
- APNZ