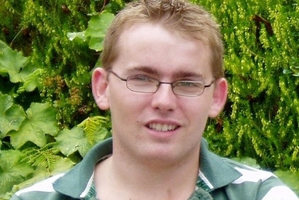 Matthew Purchase suffered permanent brain damage when he was shot while on a working holiday in New Zealand.
Taxpayers are trapped into paying compensation to a traveller who would rather be able to sue for damages over being shot in the head and left permanently brain damaged.
The injury suffered by Matthew Purchase in 2007 has cost almost $300,000 in compensation since the bullet which caused it was fired.
The cost will be less in future after a review of his file cut the payments from $534.38 a week to $95.72.
His father, Ian Purchase, said the cut was a "bombshell" and the new amount was not enough to live on. But the ACC scheme meant they could not sue the person who fired the bullet.
The ACC scheme has long been described as a boon for Kiwis because it guarantees state assistance for recovery from accidents and injury. The trade-off is the sacrifice of the ability to sue for damages.
But visitors also qualify if injured here, with 1294 overseas claimants getting $7.9 million in 2012.
Mr Purchase was shot while spotlighting for rabbits just eight weeks into a working holiday in New Zealand. He was working at a farm for six months to gain experience before taking over the family farm in England.
The .22 bullet fired at point-blank range entered his skull and destroyed the right side of his brain. A Danish tourist was found not guilty of carelessly using a firearm.
The ACC scheme was initially welcomed by Mr Purchase's father. There was a lump sum payment of $120,664 and weekly compensation of $534.38 based on his pay on the farm.
But a regular review of the case found he was entitled to less because he was only planning on working in New Zealand for six months. The amount was cut to $95.72.
Ian Purchase said the family did not realise the ACC scheme prevented them taking a personal injury case against the shooter.
He said the family would have sued the Danish tourist, who had insurance cover at the time of the accident. He said legal advice was that any case would be subject to the laws of the country where the accident happened "bringing with it a bar on personal injury claims".
Along with the $120,664 lump sum payment, Matthew Purchase had also received $97,313 in overpayments and about $25,000 in authorised compensation payments. There was also $23,000 in rehabilitation costs covered by ACC.
The payments are made on the basis the accident happened in New Zealand and dwarf the amount he earned while here - $5734 in the eight weeks he was employed.
"For Matthew, very few of the benefits of the ACC system apply now that he is back in the UK," said Ian Purchase. "Matthew seems to have fallen outside all the usual safety nets that are in place to protect someone in his situation and sadly will do so for the rest of his life."
He added: "If we had been allowed to bring a personal injury claim within European jurisdiction then this stance by ACC would not have seemed so unfair.
"ACC legislation can and does cause very real hardship and unfairness for an unlucky few."
A spokeswoman for ACC said injury cover was automatic for people coming to New Zealand. The overpayment was not an error of Mr Purchase's making and had been written off.
She said the number of payments to overseas clients had fallen from 1539 in 2010 to 1294 in 2012.