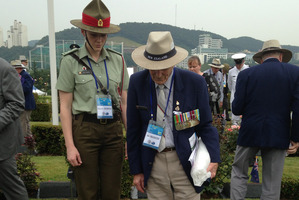 Karakia and waiata mixed with strains of bagpipes and brass as Korean War veterans from New Zealand and 10 other countries reunited to pay their respects yesterday to slain comrades who lie in the UN War Cemetery at the southern port city of Busan.
The veterans attended a UN service at the rain-soaked cemetery where 2300 of their comrades who died during the war lie.
"Each and every one who served stood for, and continues to stand for, honour, freedom and peace," said US War Memorials Commissioner Barbaralee Diamonstein-Spielvogel.
Thirty-four Kiwis are buried at Busan, including Oamaru man Edward Allnatt, at whose grave Veterans Affairs Minister Michael Woodhouse offered respects on behalf of the Otago Korean War Veterans Association.
The 30 Kiwi veterans who made the trip to South Korea arrived at the New Zealand section of the cemetery to a karakia from the Defence Force Maori Culture Group.
That was followed by a waiata, after which faint strains of bagpipes and bugle calls could be heard across the cemetery from other nations' services.
"I say to you gentlemen, I salute you, I salute your bravery and your courage," said Prime Minister John Key.
"This service is all the more special and powerful for your presence."
Mateship remembered
At 88, John Bridgewater, of Mt Albert, is the oldest member of the 30-strong veterans group visiting South Korea this week.
Yesterday, at the UN War Cemetery in southern city Busan, he placed a poppy on the grave of his friend Ray Carson, who died in 1953 at 22.
Mr Carson was killed when a "Quad" truck used to tow field guns overturned in treacherous battlefield conditions.
After the services and a gruelling week of travel and visits to former battlefields to the north, Mr Bridgewater was tired but pleased to see Mr Carson's grave, where he spent several minutes.
"We went about together, he was a bit younger than me.
"He had a girlfriend in Christchurch, and he'd send her stuff. I'd help him pick it out."