Key makes lucky escape as man drives 4WD vehicle at crowd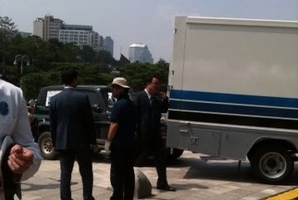 A disgruntled businessman drove an SUV packed with gas cylinders at a commemoration service crowd where the New Zealand Prime Minister had been speaking yesterday.
The man was said to hold a grudge against the New Zealand Government after a business deal went sour, and had emblazoned his vehicle with images of John Key and Adolf Hitler.
The Prime Minister had already left the service, and says he does not know whether the man was trying to harm him.
It is understood nobody was injured. The Korean man veered into a parked truck, missing the crowd at the Seoul National War Memorial. The attack took place about 200m from where Key had addressed about 5,000 people commemorating the Korean War ceasefire 60 years ago.
Police quickly arrested the man and he was last night in custody.
Asked whether the man was trying to hurt him, Key said he couldn't answer that question, "because it simply all happened away from me".
"I wasn't even aware of it," he added.
New Zealand eyewitnesses report seeing security personnel at the tightly guarded event attempting to break into the 4WD vehicle after gas cylinders were spotted inside.
"All we saw was this jeep just try to approach the crowd at the back and try and crash into the crowd but all it crashed into was the back of a truck," a member of the New Zealand veterans and military group attending the commemorations said.
The man and another member of the group who saw the incident said the van displayed images of Hitler giving a Nazi salute, and Key with his finger across his lips.
They saw security staff frantically breaking the windows of the vehicle with a fire extinguisher to reach what appeared to be gas cylinders inside.
Key later told reporters the driver appeared to be a property investor "who somehow had a business transaction in New Zealand that's gone wrong".
"He's been disgruntled about that. Somehow along the line, he's linked that back to saying all roads lead back to the Government ... I don't think there's any real link there."
The man had staged a peaceful, week-long "silent protest" outside the New Zealand embassy about a month ago.
Key and an official entourage including about 30 New Zealand Korean War veterans are due to visit the graves of New Zealand war dead in the southern city of Busan later today.
Tensions on the Korean Peninsula remain high, amid North Korean weapons-testing and posturing about its nuclear programme.
Defence Force chief Lieutenant-General Rhys Jones told TV3 last night that he believed New Zealand would go to South Korea's aid if it was needed - prompting surprise, given that the Government had backed away from such a strong position before.
"If South Korea is threatened again, I think we'd send forces there," Jones said.
"South Korea is important to us so, if their nation's threatened, yeah, it would be seriously considered by the Government for sure."