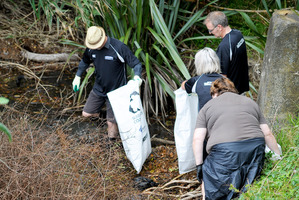 New Zealand's beaches are not as pristine as some people may think, figures from the eco group Sustainable Coastlines show.
Volunteers have collected 123,817kg of rubbish from NZ beaches since the organisation started four years ago. That is the equivalent of filling 30 buses with trash.
The Herald on Sunday's Beach Busters campaign has been encouraging Kiwis to help clean up the coastlines.
Sustainable Coastlines has teamed up with Community Probation Services, and 305 young offenders have so far helped in the clean-ups in Auckland and Wellington.
Mike Andzue, senior community work supervisor in South Auckland, believes the scheme is helping some wayward youth stay out of trouble. "Helping clean up the beaches ... has given these kids a sense of pride and purpose. I have not seen any returning to offending after they have finished. The work is clearly having an impact on their behaviour."
A survey revealed 93 per cent of the young offenders enjoyed being involved. About 73 per cent said they were likely to change their behaviour based on what they had learned.
"I felt morally enlightened today. I'm now more at one with our coastlines," one wrote. Another said: "I won't be littering any more and will be advising people against it."
Others said they would challenge beach litterbugs. with one saying: "I'd make them pick it up and eat it."