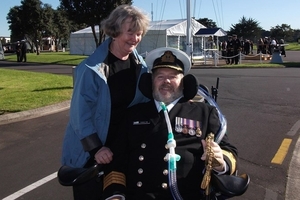 Naval captain Tom Rae suffered such severe injuries in a quad bike crash his doctors asked him if they should switch off his life support.
At that time he faced a future in a wheelchair, paralysed from the neck down, dependent on a ventilator. But he chose life. And live he did, for three years.
Rae died of cancer last week and will be farewelled at the Devonport Naval Base tomorrow.
Rae didn't blame the quad bike for his injuries, but a moment's inattention.
On his website he wrote: "I drove into an open drain at a high speed, on flat ground, in perfect weather. I was looking the wrong way - looking to see if the gate was open up the hill - my next task to move to the sheep.
"I flew across the handlebars and landed on the left side of my face. For me, everything stopped and I decided I was going to die."
A neighbour found him an hour later and he was flown to Auckland City Hospital. "I was given the options of being made comfortable, and turning the ventilation off causing me to die ... after not too much thought, I chose to live."
Yesterday, Rae's daughter Penny Low recalled one of his favourite sayings: "Even the bad days are still so much better than not being here."
He learned to talk and eat again, and built a life for himself, created a website and blog, kept involved with the navy - he was promoted to captain after the crash - and lived long enough to meet his first grandchild.
He is survived by the grandchild, his three children and his wife of 23 years, Rosemary.