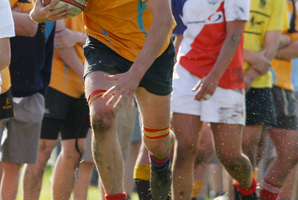 Schoolboy rugby has never had a higher profile in this country. As much has been recognised by Sky TV, leading to an exposure which, in itself, has heightened its popularity further. The prestige attached to success in such an environment has raised the stakes for principals and their schools. Pupils, parents and old boys want to be associated with a winning team. Nowhere is the pressure more acute than in Auckland's 1A championship, widely cited as the world's premier schoolboy competition. That very intensity, however, is leading some schools to place too much importance on their 1st XVs to the detriment of the education of their pupils.
This issue is the subject of a report today by Gregor Paul, and will be examined further in a series of articles in the Herald this week. The importance some schools place on rugby success is immediately obvious. The 12 teams in the 1A competition are estimated to spend hundreds of thousands collectively on their 1st XVs. While some of this is drawn from sponsors, old boys and the Auckland Rugby Union, school funding is also involved.
That is channelled from money which could otherwise have benefited education programmes.
Some of the money is spent on rugby scholarships. Half the teams in the competition offer these. Thirty-eight boys across the 12 squads are listed as new to their respective school in the past two years, and there are at least 35 boys who are in the 1st XV but were not at that school in Year 9. This has been a contentious issue for many years, with lower-decile schools and noted rugby nurseries such as De La Salle College alleging their players are being poached by the likes of St Kentigern College, King's College and Sacred Heart.
Many parents succumb readily to the chance for their boy to demonstrate his talent for a leading school in this prestigious competition - and, potentially, secure himself a professional contract in rugby, rugby league or even Aussie Rules. They should exercise more caution. Placing all of a child's hopes in the one sporting basket is, obviously, dangerous. Yet that happens when he switches to a school that wants him for his rugby prowess, not to provide the opportunity for a better education.
Some boys from lower-decile schools also struggle to fit into the much different environment of a more affluent school. All Black Keven Mealamu avoided that and did no harm to his rugby career by staying loyal to Aorere College even while a member of the NZ Schools team. Another example to be examined this week, that of Kieran Read, is equally instructive. He went to St Kentigern College for a year before returning to Rosehill College in Papakura because he missed his mates.
Various attempts have been made by lower-decile schools to stop the poaching. They have not worked. Only twice in recent years has College Sport, which manages the 1A competition, found bona fide evidence of poaching. This does not indicate it is not happening, only that it is very difficult to prove wrongdoing. And when the issue last flared, seven of the biggest and most successful schools threatened to form a breakaway competition.
Despite protestations that their focus is on providing the best-possible education, it is clear that some are placing too much emphasis on rugby success. It, therefore, falls to parents to determine what is best for their children. Rarely will that be a school which wants only to tap a boy's talent at rugby.