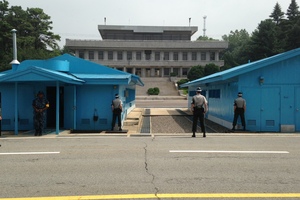 New Zealand Korean War veterans were serenaded with Pokarekare Ana sung by a children's choir during South Korea's official commemoration of the 1953 armistice in Seoul this morning.
The veterans were among those of 21 nations that came to South Korea's aid during the war and were part of a crowd of 4000-5000 gathered to mark the occasion in front of Seoul's National War Memorial Museum on a sweltering morning.
A guest of President Park Geun-hye in Seoul this week, Prime Minister John Key, as the only leader of those nations in attendance today was given the honour of speaking on their behalf them at this morning's ceremony.
Greeting the crowd in Korean, and drawing cheers, Mr Key paid tribute to the "heroism and sacrifice" of servicemen and women of 21 countries "large and small" that came to South Korea's defence.
He also acknowledged the "immense suffering borne by Koreans themselves... including families that are still divided".
"We hope that the pain and suffering can be healed and the division of Korea overcome".
The armistice ended large scale hostilities but the six decades since have often seen skirmishes between North Korea and the South.
In her address, UN Representative Noeleen Heyzer said it was "deeply regrettable the situation on the Korean Peninsula remains fragile and volatile".
Mr Key yesterday secured the prize he was seeking on his trip to South Korea this week when South Korean President Park Geun-hye agreed to restart free trade talks with New Zealand.
This afternoon, along with Veterans Affairs Minister Michael Woodhouse and Korean New Zealand MP Melissa Lee he returned to presidential palace the Blue House for a commemoration lunch hosted by President Park.
Tomorrow the New Zealand party travels to the UN cemetery in southern port city Busan where 34 New Zealanders who died during the war are buried.