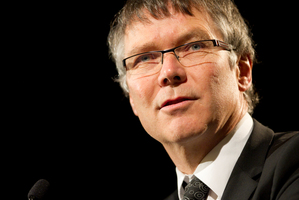 Labour says it would consider restricting foreign ownership of residential properties to help ease pressure on the housing market.
Labour's finance spokesman David Parker has previously said the party would restrict foreign ownership of rural land, but as recently as May he said restricting foreign ownership of residential property was not Labour policy.
However, Mr Parker appeared to soften his position on TV3's The Nation this morning, saying Labour "would consider" foreign ownership of residential land.
He would not go into details about what the party was looking at.
"But we're worried about these issues. We think that the suite of solutions that we have - that deal with both demand pressures and increased supply, both important parts of the equation - would make a fundamental difference."
The comments come as the Reserve Bank, which this week kept the official cash rate at 2.5 per cent, looks to implement a loan to value ratio (LVR) which would limit how much banks can lend to 80 per cent of a property's value.
Mr Parker said the Reserve Bank had been painted into a corner with the LVR.
"The Reserve Bank has been handed a loaded gun by the Government who pretend they don't want it to apply to first-home buyers but always knew it would."
Mr Parker said houses prices were "ridiculously" high, particularly in Auckland. He said Labour would introduce a capital gains tax and build affordable houses to address the supply side issue.
"If we did those things, then LVRs would not have to be applied to first-home buyers."
Former Reserve Bank governor and former National Party leader Don Brash told The Nation that house prices were "outrageously high" relative to incomes.
He said the LVR, as proposed by the Reserve Bank, was a "second or third best option".
"The best solution to the problem is to release more land. Every objective observer recognises ... that the basic problem in Auckland is the restriction on land supply."
Dr Brash said the Reserve Bank's worry was that if house prices continued to increase, the banking system may be destabilised when the housing bubble "eventually bursts".
"Not only the banking system would be hurt but a lot of buyers would be severely hurt too, including first-home buyers jumping into this market."
Dr Brash said first-home buyers' deposits would be "wiped out" if there was a 5 per cent to 15 per cent reduction in house prices.
- APNZ