Same-sex pair aiming to be first married in NZ stunned after sudden death in family.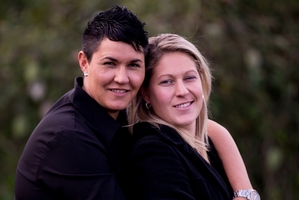 Yesterday was a nightmare rollercoaster day for former Football Ferns soccer player Melissa Ray.
In the morning, she and her partner, Tash Vitali, heard that they had beaten 140 other applicants in a radio competition to become probably the first same-sex couple to marry legally in New Zealand.
In the afternoon, she and Tash attended the funeral of her mother, Inez Ray, who died suddenly and tragically last Saturday.
"It's been a very tough week," Ms Vitali said.
The couple considered pulling out of the competition. In the end they stayed in, but didn't tell anyone what had happened so as not to influence the online voting.
"We knew people would say, 'Oh, they got sympathy votes,' so we have kept it quiet. Now it's all over and we've won on our merit, we can say yes, she did pass away."
Ms Vitali, 37, and Ms Ray, 29, will marry in the liberal Unitarian Church on Ponsonby Rd after an original plan to hold the first same-sex wedding at St Matthew-in-the-City was squashed by Anglican Church rules banning its ministers from taking part.
The service will start at 8am on Monday August 19, the day same-sex marriage becomes legal under Labour MP Louisa Wall's bill passed in April.
ZM Radio spokeswoman Kate Britten said someone would pick up the marriage certificate when the Office of Births, Deaths and Marriages in Albert St opened at 8.30am and rush the document up to Ponsonby.
After the ceremony, the couple will travel in an open coach drawn by white horses down Ponsonby Rd to Three Lamps and then by car to a reception in the Cloud on Queens Wharf. Ratepayer-owned Waterfront Auckland is giving the Cloud free of charge and other sponsors are providing the fitout and catering.
The day will be topped off with a helicopter ride to an undisclosed site for photographs, followed by a week-long Fiji honeymoon sponsored by Tourism Fiji.
At least three other competitions are running to choose other gay couples to marry on the same day, including one run by the Edge radio station for a joint wedding for male and female same-sex couples in Rotorua, one sponsored by Tourism NZ for an Australian couple to marry at Te Papa in Wellington, and one sponsored by Air New Zealand for a wedding on a flight between Queenstown and Auckland with a gay star of the US TV show Modern Family, Jesse Tyler Ferguson.
But logistics suggest the Auckland couple may be the first. The Registrar-General of Marriages, Jeff Montgomery, said his agency did not have an office in Queenstown so Air NZ's couple would have to pick up a marriage certificate there when the District Court opened at 9am.
Couples wishing to marry on the first day must submit a Notice of Intending Marriage three days earlier, on August 16, and cannot pick up the marriage licence until August 19.
Mr Montgomery, who had a civil union with his own partner Dean Halifax four years ago, said the Notice of Intending Marriage had been redesigned to let people choose whether to be called "bride", "bridegroom" or "partner", and whatever they chose would also be used on all the other marriage forms.
Ms Vitali said she and Ms Ray, who have been together for two years, had not decided what to put on the form but would both call each other "my wife" after the wedding.
"She'll take my last name," Ms Vitali said. "She'll be wearing a dress. I'm not really into dresses. I won't be wearing a suit - I'm not a man. I'll probably come up with something nice halfway in between."
She said Ms Ray had been open about her sexual orientation since her late teens and had full support from her family.
Waterfront Auckland spokesman Luke Henshaw said there were no competing bookings for the Cloud on August 19 and the only direct cost to ratepayers would be $200 for cleaning up afterwards.