Expat finds that he can't move into his house, but he can't sell it either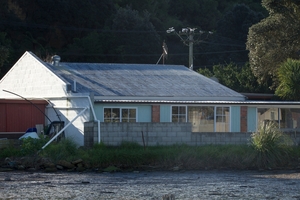 A home that was supposed to be a retirement dream has become a fast-tightening noose around its owner's neck, after he has become trapped in a rare situation where he must move - but can't sell.
Alan Strid, 64, has been battling to find a way out his predicament, trying to negotiate with Maori Party co-leader Te Ururoa Flavell - the chairman of the iwi company from which he leases the land.
Mr Strid, who lives in Canada, had planned to return home to retire when he turned 65.
In 2009, he thought he had found the perfect property in an estuary-side cottage in Little Waihi in the Bay of Plenty, buying it from its previous owners for $100,000.
He now wishes he'd never gone near it.
"There's no way forward for me," he told the Weekend Herald.
Te Arawa Management, which owns and leases land in the tiny settlement, arranged the lease and Mr Strid then spent a further $30,000 on flood protection measures and renovation.
But months after he bought, residents were told of their landlords' plans to clean up the estuary - and that they faced eviction.
Residents, some of whom have lived in their homes for decades paying year-by-year leases, still face uncertainty.
They were most recently told by Te Arawa it did not intend to renew leases past 2015, as it planned to turn the area back into natural wetland.
But some exceptions could be made for long-term elderly residents on a case-by-case basis.
Mr Strid said he would happily return to his home if Te Arawa could guarantee him a 15-year lease. His contract meant he could not sell the house on the open market, nor could he rent it out, leaving his landlords as his only possible buyer.
But he learned this month that Te Arawa had no interest in buying it.
"They might change their mind, or even just make me a reasonable offer, but I don't think I'll get anything in any case."
Mr Flavell acknowledged that Mr Strid had offered to sell his home to the company.
However, they felt the price he was asking for was too expensive for what the home was worth.
"Our assessment of his property was that it would serve us no good and therefore, we rejected his offer."
Mr Flavell said Mr Strid would have known about the year-by-year lease arrangements when he bought his house in 2009.
The residents had been informed in writing about the plans.
"The agreement that was reached was that the lease agreements would be on a year-by-year basis. And that was ... something everybody knew when they signed the dotted line. He knew that, absolutely."
Mr Flavell acknowledged that some people living in the area were elderly and each person would be addressed on a "case by case basis".
Mr Strid said the stress and worry over the past three years had been never-ending.
"It's just one frustration after another ... the whole thing has just been a sour issue.
"I wouldn't have put the money into the properties if I'd known I only had a year or two. Right from the beginning, I let it be known that I wanted it for a retirement property."
Meanwhile, his neighbours are waiting to see what Mr Strid's ordeal might mean for them.
Jack Elsworth, one of 28 affected residents, was paying only $45 a year when he moved onto his lot 40 years ago and even now the rent still amounts to just $60 a week.
He hoped to stay, but could not tell what would happen.
"Anything can change ... it just changes with every letter you get."
Another long-time local, Alby Churchill, said the residents had lost any value their houses had.
"It's emotional," he said.
The chief executive of the Homeowners and Buyers Association, Roger Levie, acknowledged the situation was unusual.
"We are certainly aware of situations where leasehold land has created problems for people, but not these very short-term leases," he said.
"You really need to think carefully before you buy into a leasehold environment - because you really don't have control."
Additional reporting: Vaimoana Tapaleao