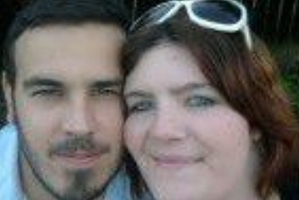 Car dealers called him "the hillbilly". Sporting facial hair, ripped jeans, mismatched Jandals and smoking roll-your-own cigarettes, Blair Bawden walked into five dealerships on the North Shore and asked to look at a fleet of luxury vehicles.
But car dealers have seen Lotto winners walk in in their gumboots, so they humoured him.
He was accompanied by his fiancee, Toni Trethewey, and her 4-year-old daughter, who staffers described as a sweet little girl.
"They weren't what one assumes is a luxury car buyer in their dress," said Tim Walker from Lexus of North Shore.
"But lottery winners tend to just dress in the type of clothes they were in when they won. You take everybody as they come ... You can come in here in your gumboots and buy a $150,000 car ... You don't have to wear a Rolex watch."
Pulling up in a $3000 black 1993 Nissan Terrano and using an old Nokia phone, Mr Bawden told variations of the same story - a relative had died and left him his cattle farm in Kohukohu, on the Hokianga Harbour, and an inheritance.
His father's cousin does own a farm with his father in Kohukohu but Mr Bawden doesn't appear to have any stake in the property.
"Their story was credible. They didn't have to pay $100,000 to a Nigerian gentleman to get $100 million," Mr Walker said.
"They didn't seem to be fazed or timid about their stories, they were all on the same page."
Mr Bawden returned to some dealers at least twice, spending hours with salesmen.
He brought friends with him sometimes and on one occasion even brought Ms Trethewey's parents.
There was no pattern to his tastes.
He signed purchase agreements for a $145,000 black Lexus IS F and a $135,400 burgundy Lexus RX Limited 450H from Lexus of North Shore, a $140,000 white Maserati GranTurismo and a $52,000 white BMW X1 from Jerry Clayton BMW, and a $90,000 Ford Falcon GT from North Harbour Ford Mazda.
And he made agreements to buy a $140,000 white 2011 Cadillac Escalade from Bunce's Motor Company, and two silver Holden Colorados, worth $100,000 in total, from Giltrap Holden. He used his visits to back up his story at other places. At the Lexus dealer, he said he'd just negotiated a deal for a Maserati and also wanted a Ford Falcon.
At the Maserati dealer, he said he had just bought a Lexus.
He didn't even ask to test-drive any of the cars. But that's not uncommon with some buyers, dealers say.
In each case, Mr Bawden said payments were on their way, speaking of various lawyers, personal bankers, accountants and "insurance guys". But none of the dealers ever saw a dime.
"He was a pacer," Mr Walker said.
"Some men wander around with the phone glued to their ear, up and down, up and down. He was one of those. It was like he was talking to his banker ... There were no flags up."
The dealers, all located quite close together, started speaking to one another, asking, "Have you had the hillbilly in?", and realised they weren't likely to see any money.
The address Mr Bawden had given them was Pinecrest Drive, Gulf Harbour, which he said he had just bought from City Impact Church founders Bev and Peter Mortlock.
He even encouraged one dealer to Google the sprawling Caribbean-style mansion with seaviews which features a billiard room, heated plunge and paddling pools and a master suite complete with a fireplace and chandeliers.
The Mortlocks do own the property and Mr Bawden did speak to Harcourts about it but he has not purchased the home.
Real estate agents in Whangaparaoa from two other companies were also affected.
Mr Bawden won the auction for a clifftop apartment in Manly through Bayleys and made an offer on a clifftop home at Army Bay through Ray White. But neither vendor saw any money from him.
He and Ms Trethewey also visited the Flight Centre in Devonport and Browns Bay, booking a $100,000 trip to Disneyland through the latter.
Checks by the Weekend Herald revealed he and his fiancee owe thousands in unpaid rent after abandoning two properties with old furniture and rotting food still inside. Landlords said they had to pay to re-paint and recarpet the properties.
A source close to the family said the couple told relatives they were dismissed unfairly from the properties and had taken their landlords to court and won a large payout.
Mr Bawden has previously borrowed money from Consumer Finance for unknown purchases, and has been on and off the unemployment benefit.
His last known employer, a company that makes water tanks in Warkworth, fired him for poor workmanship.
It's hard to know if Ms Trethewey knew what he was up to or believed his claims of an inheritance or payout.
Psychologist Julian Reeves said Mr Bawden's moods were "hypermanic".
"He is getting something out of it, he's getting the confidence of dealing with these people. It sounds like he has an elevated mood, very grandiose," he said.
Mr Bawden's actions may seem harmless and some might say he's just a time waster. But he could be sued for the cost of the cars, and the house auction he won.
His actions have hit one dealer hard. "It just annoys me, because time is so important in people's lives," said Matt Bill of Jerry Clayton BMW. "And I can't understand why somebody would want to waste his, his partner's and his daughter's time and life doing this ... That's what upsets me."