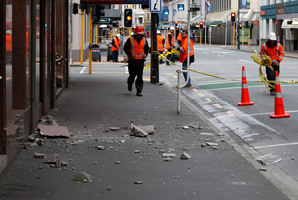 Residents have cleared out of a central Wellington street while urgent work is carried out on a quake-damaged carpark lift which could come crashing down in an aftershock.
Wellington City Council closed off Luke's Lane, between Manners St and Taranaki St, after the 10-storey lift shaft became detached from the James Smiths parking building in Sunday's 6.5 magnitude earthquake.
The council has said it has no authority to force residents out of buildings on the street.
However, council earthquake resilience manager Neville Brown told Radio New Zealand the street was "vacant'' while engineers carried out remedial work on the lift shaft this afternoon.
"It's a difficult situation, and we've suggested to them that they vacate because if we get a further aftershock, and this lift well is not restrained, there is the potential for it to fall,'' he said.
"We're trying to be cautious and ensure people's safety in the case of a further aftershock that might dislodge this thing,''
Mr Brown said engineers had started installing the first of a number of restraining brackets on the side of the lift shaft this afternoon. More work would be carried out tomorrow.
The restraints, devised by seismic engineers, were designed to hold the lift shaft to the building in an aftershock.
Council spokesman Richard MacLean earlier told RNZ there were "quite a few'' apartments, organisations and businesses in the area.
The street closure would disrupt a large number of people for a few days, he said.
Meanwhile, Mr Brown said assessments were continuing on other buildings damaged in the quake.
"Building owners, I'd have to say have, been extraordinarily responsible, and engineers have had a really busy few days with reinforcements called in from outside of Wellington to help get through the volume of work that is required.''
The city was shaken by a magnitude 4.2 earthquake today, but GNS Science has said it was unrelated to Sunday's magnitude 6.5 quake.
The quake was located 40km northwest of Wellington at a depth of 68km.
GeoNet received over 1300 reports of people feeling the quake.
There have been over 1500 aftershocks since Sunday's shake near Seddon.
- APNZ