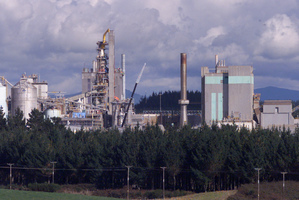 A pulp and paper mill worker who said he was "away with the birdies" during training had earlier potentially put his colleagues in danger by failing to securely close pipes carrying caustic, hot liquid, the Employment Relations Authority says.
Warren Wilton was working as a caustic and kilns operator at Carter Holt Harvey's Kinleith Mill in Tokoroa.
The authority said the company rightly sacked him after he failed to correctly complete training programmes put in place after incidents that could have proved dangerous for his workmates.
An important part of his job involved opening and/or closing valves to isolate the flow of liquids away from the area of the plant that required maintenance or repairs, and then returning the valves to their original position for work to restart.
Authority member Tania Tetitaha said that in May last year, Mr Wilson was working on a "liquid clarifier" when he failed to return the valve to their position when it was needed to run.
Another operator started the clarifier when Mr Wilton alerted him he had left the drain valve open.
"He shut the drain valve, but not before 20 to 40 litres of liquid escaped ... and [was] pumped back into the system," Ms Tetitaha said.
A week later, Mr Wilton was asked to undertake an isolation where he failed to close a drain valve. His manager Keith Haystead saw the valve and closed it before anything further occurred.
There were other incidents of valves not being returned to their correct position, which could have resulted in the plant needing to be closed down, Carter Holt Harvey told Ms Tetitaha.
She rejected Mr Wilton's claim the incidents did not create "potentially dangerous conditions for other employees".
"The mill had material or liquid including caustic liquids and hot water flowing through the pipes."
If caustic liquid had splashed the eyes of an employee it could detrimentally affect sight and burn exposed skin, she said.
The hot water could scald someone, and damage could be caused to the plant, she said.
The company arranged a performance improvement plan and warned Mr Wilton he would lose his job if his performance did not improve.
He undertook two practical exercises but neither was done completely satisfactorily.
At an employment hearing after the second exercise he told management he was "away with the birdies and not concentrating" during it.
Later that day he was fired.
Mr Wilton told the authority he was not given all relevant information, no reasonable opportunity to improve performance and the company made no genuine attempt to assist him or genuinely consider the decision to dismiss him.
Ms Tetitaha said there were people available to help Mr Wilton and he knew there were manuals he could study.
She said Carter Holt Harvey's actions were those of a fair employer and Mr Wilton was justifiably dismissed.
- APNZ