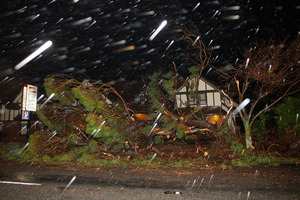 A fierce storm in Wellington last month caused damage estimated at more than $200,000 to businesses in the city, according to the Wellington Employers' Chamber of Commerce.
The chamber said half that was suffered by two businesses and the rest by a further six.
A chamber survey of 95 members showed a third of respondents suffered some sort of storm damage.
The storm also disrupted business, with one respondent estimating the cost at more than $100,000, one between $50,000 and $100,000, three at $10,000-$50,000, and 27 at $1000-$10,000.
The disruption was mostly through staff members being unable to get to work.
The survey asked members if there was anything authorities could have done to minimise the impact of the storm.
Generally, they were satisfied, although some referred to the need for clearer and better warnings, faster power and reconnection services, and faster clearing of drains, chamber chief executive Raewyn Bleakley said.
"Considering it was labelled our biggest weather event since the Wahine storm in 1968, I'm surprised there wasn't more damage. I think we came through it pretty well, all things considered."
The Insurance Council said it would have final figures on the cost of the storm to the city by next month.
- APNZ