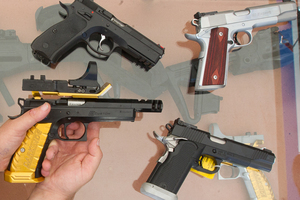 If you inherit an unlicensed gun, turn it in or it could end up in the wrong hands, police say.
Waikato Police said some situations saw guns end up with people who didn't ask for them.
But police wanted to encourage people who inherited unlicensed firearms to dispose of them safely as part of their 'Lock em or lose em' campaign.
"There are a number of solutions available to people facing such situations, firstly we encourage you to bring such items into your nearest police station and surrender them," said district arms officer Richard Plas.
Alternatively, they could be passed on to friends or relatives who did have licences, or taken to a licensed firearms dealer who could sell them on or get rid of them, he said.
Keeping account of weapons was crucial because of the risk of them falling into the wrong hands.
Police were "too often" coming across unlicensed pistols and semi-automatics during drug and gang related searches.
And people should realise that a lot of effort went into finding out where the guns had come from.
"Only yesterday we had a member of the public bring in two firearms he had inherited from a deceased relative that he had no need or desire to hold on to," Mr Plas said.
"We were able to take them off his hands and make arrangements for their disposal while he was able to leave with the peace of mind of not having to worry about the expense of securing the guns properly."
The campaign follows the theft of 12 firearms from three rural properties in the Waikato over the last three weeks.
All of the homes had been left unlocked and unsecured firearms stolen.
- APNZ