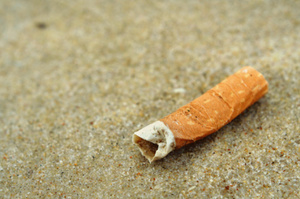 One of the world's largest tobacco companies has agreed to stop giving its employees free cigarettes following an investigation by the Ministry of Health.
Imperial Tobacco has also agreed to voluntarily give $5000 to a community project of its choice.
The investigation was sparked by a complaint by Action on Smoking and Health (ASH) after the tobacco company's commercial boss, Brendan Walker, confirmed cigarettes were available to workers during breaks at its Petone factory.
He said the free cigarettes were provided for testing purposes.
ASH complained that the company was in breach of section 28 of the Smokefree Environments Act, which states that no manufacturer, distributor, importer, or retailer of tobacco products may distribute any tobacco product for free. The penalty for breaching the section is a fine of up to $50,000.
The Ministry of Health started its investigation on May 21 and Imperial Tobacco stopped providing its employees with cigarettes 10 days later. In a letter of agreement it also said it would not do so again.
Staff must now pay full price for cigarettes and other tobacco products and, as another term of the agreement with the ministry, the company said it would voluntarily donate $5000 to a community project. The Ministry of Health has ceased its prosecution on the basis of the terms of the agreement.
The ministry's chief legal advisor Phil Knipe said the result was a good one.
``We have stopped the practice and have received acknowledgement from Imperial that they were in breach. We also have agreement that this type of arrangement will not be resumed.''
Smoke-free enforcement staff from the Hutt Valley District Health Board would monitor Imperial Tobacco's ongoing compliance with the agreement.
Imperial Tobacco market manager Brendan Walker said in a statement the company welcomed the ministry's agreement to discontinue its prosecution.
"Imperial Tobacco takes compliance with our legal obligations seriously, and seeks to act within the law at all times. We sincerely regret the circumstances which led to the prosecution being laid against us, and have taken internal steps to ensure the issue will not arise again in the future.''
- APNZ