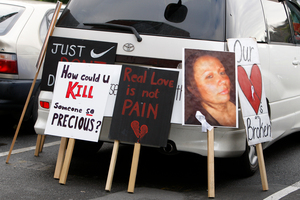 A man who punched a woman in the face causing her to fall backwards and strike her head on the floor resulting in a brain injury and her death, has been jailed for three years.
Phillip Andre Mahanga, 33, was sentenced in the High Court at Whangarei yesterday after previously pleading guilty to the manslaughter of 34-year-old mother of two Patricia Ann McGrath, known affectionately as Wowo.
The couple had been in a relationship for 14 months.
Justice Graham Lang said the McGrath family had suffered a "horrendous and traumatic" experience. He also acknowledged family who had come to support Mahanga.
His said on January 4 this year Mahanga and Ms McGrath had been living together in a rental property in Kamo. After a verbal argument between the two Mahanga left and returned home about 8.30pm.
Ms McGrath had been drinking with Mr Mahanga's teenage son, who lived with them.
A heated argument between Ms McGrath and Mahanga soon became physical and went from the bedroom to the loungeroom.
Ms McGrath moved towards Mahanga and as she tried to hit him she was punched in the face. The punch caused her to fall backwards and her head hit the carpeted floor. She was knocked unconscious then got to her feet. Mahanga left the house as one of Ms McGrath's friends arrived.
Ms McGrath vomited and fell unconscious onto a couch. The friend left and raised the alarm with the McGrath family, who called for an ambulance.
Mr Lang said the two blows - a punch and then striking the floor - produced a fatal brain injury which lead to her death four days later when she was taken off life support in Whangarei Hospital.
Her brother John McGrath said people needed to be aware of the devastation caused by domestic violence which was needless.
"He has taken my sister's life. His sentence is short while ours will be for life. It doesn't seem fair."
Sister in law Kate McGrath hoped Mahanga learned from the tragedy and never hit another woman again.
She added: "Violence is never OK or a valid outlet."
For more articles from this region, go to Northern Advocate