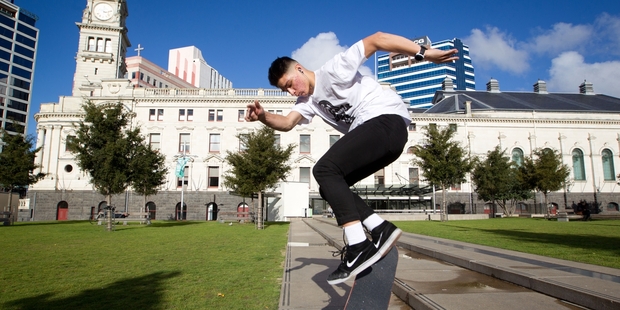 A council-funded programme that aims to promote "respectful cohabitation" between skateboarders and the rest of the public has been slammed as a waste of ratepayer money.
Auckland Council's City Transformation unit approved spending of $3754.75 to employ members of the skateboarder advocacy group Skaters United Voice (SUV) as ambassadors over the two-week school holiday period.
A council release said the programme would help "inexperienced skaters learn good skating etiquette from their peers".
Stephen Berry, who is campaigning for council on the Affordable Auckland ticket, was incredulous at the spending.
"Nearly 24,000 ratepayers in my ward alone are facing rates increases in excess of 5 per cent this year," said Mr Berry, who is standing in the Waitemata & Gulf ward.
"Borrowing by the council will increase by 30 per cent over the next 12 months meaning council debt will approach $6.8 billion this time next year. Does the council really think rubbish like teaching skaters manners is more important than the rates burden that awaits our next generation of homeowners?"
Mr Berry said the issue was a matter of principle.
"When we consider that we are borrowing $1.8 billion over the next 12 months, even if we are looking at $3754 for this programme, it is these little things that all add up, especially when we can't afford it."
Skateboarders shouldn't need to be paid to ensure fellow skaters behaved appropriately, he said.
"It is up to the skateboard advocacy group to look after their members as opposed to the council spending other people's money on it.
"I certainly don't need the council to tell me how to behave when I am walking down the street. I think it's the same for anyone who uses our public footpaths."
Auckland Council team leader city transformation Rachael Eaton said the scheme had been well received by the public and would lead to savings through less damage being done to the city's assets.
"In the long term, highlighting to skaters the respectful use of public space will also help to protect council assets and reduce maintenance costs," Ms Eaton said.
SUV members had been contracted to patrol Aotea Square and outside the library on Lorne St, areas that had been designed with skateboarders in mind.
Max Harris, an 18-year-old skater from Sylvia Park who was practising tricks in Aotea Square yesterday, said the ambassadors were "probably not" required.
He had never had an issue with members of the public, many of whom stopped to watch him and take photos. "A few skaters try to cause trouble but most of us just want to skate," he said. The issue of skateboarder behaviour came under scrutiny last March when competition organiser Craig Platt was filmed barging a rider off his board and then grabbing a man by his throat at an event at Victoria Park.
SUV spokesman Chey Ataria, who oversaw the programme, said skateboarding was "a legitimate and positive outlet for young people, but we just need to prove to the public that we can share their space in a responsible way".
Project leader Keren Neal said the programme was part of a "collaborative approach". The programme would help the council develop codes of conduct for skaters.