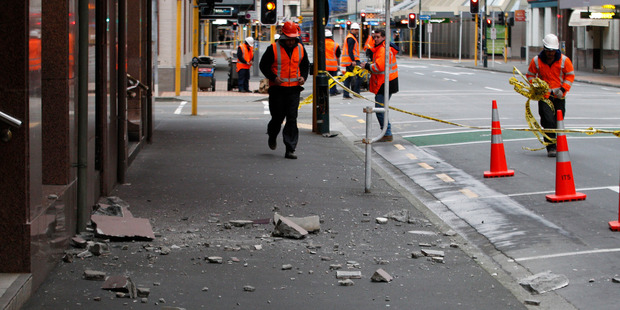 Central New Zealand has been rattled by more than 1500 aftershocks in the past week as a previously unknown section of faultline under Cook Strait shakes out the last of its stress.
Three aftershock sequences caused by large quakes on Friday morning, Sunday morning and Sunday evening are still rumbling under Wellington and Marlborough, producing more than 200 quakes a day.
The sequence was highly energetic at first, and while there were still some strong shakes - the largest yesterday was a magnitude 4.2 - the sequence was decaying quickly.
GNS seismology team leader Stephen Bannister said the aftershocks were expected to die off "quite rapidly". The chance of another magnitude 6 in the next week was lowered yesterday to 9 per cent.
Around 10 magnitude 5 quakes and 100 magnitude 4 quakes could be expected to follow a magnitude 6 quake.
GNS Science and the National Institute of Water and Atmospheric Research (Niwa) scientists now have a clearer picture of the faultline which generated the biggest quake on Sunday evening.
It was believed to be an extension of the London Hills Fault at the north-east edge of the South Island.
Dr Bannister said the aftershock sequence indicated that the fault was roughly 24km long, and 16km of it ruptured to produce the magnitude 6.5 quake at 5.30pm on Sunday. It cut through the earth's crust between 10km and 20km below the seafloor.
The fault "unzipped" in a mostly southern direction with most energy released towards the South Island.
The strongest ground acceleration in Wellington was measured in Karori, and reached 14 per cent of the force of gravity. This meant buildings in Karori were shoved with 14 per cent of the acceleration of a stone being dropped from someone's hand.
This was far lower than the deadly Christchurch quake in February 2011, where the ground accelerated at twice the force of gravity.
In parts of central Wellington the quake reached 6 on the Modified Mercalli intensity scale, which runs to 12.
This intensity meant the quake would be felt by anyone in the area, would make it difficult to walk steadily, make objects fall from shelves, and cause slight non-structural damage to buildings.
Sunday's quake was a strike-slip event in which the ground was shoved sideways. The other two large quakes on Friday and Sunday mornings were "thrusting events" which pushed the ground upwards.
The earth was displaced by around 5cm in parts of Nelson. During the two major quakes in Christchurch in 2010 and 2011, the earth moved 5m.
Scientists will now try to measure whether the quakes have relieved or increased the stress on the Wellington Fault, which runs under the CBD and is capable of quakes greater than magnitude 8.