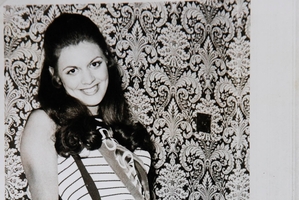 A worldwide search for the beauty queen in a 1973 photo discovered in a British mall ended in New Zealand.
June Perfect, a 61-year-old from Waikato who once dated soccer legend George Best, is back in Manchester this week to be re-crowned Miss Stretford.
"Winning was a bit of a springboard to other things so it is wonderful to return to the place where I had that special moment in my life all those years ago," she said.
The search was launched last year after the manager of the Stretford Mall found photos of the pageant winner while tidying his office.
He turned to local media to help trace the woman in the hope of organising a reunion.
His appeal was spotted by a relative of the mystery model, who was identified as June Perfect, nee Pickering, a mother of two and grandmother of three now living in New Zealand.
Mrs Perfect still has the sash and swimsuit she wore for the competition and took them along for yesterday's reunion, where she was greeted by the Mayor of Trafford.
She expected the trip would bring back a lot of memories of her career as a beauty queen contestant, in which she won more than 40 pageants and went on to become a scoregirl on British hit TV game show It's A Knockout.
"I think I won 100 [for Miss Stretford], which was quite a lot of money in those days," she said.
"I was 21 and 1973 was a good year for me because it was the year I was fourth in Miss UK, which was probably one of my best achievements in my modelling career.
"It was a wonderful life to lead because I travelled all over Europe with my mum, meeting lots of great people, and wherever you went you were treated so well with lovely meals in lovely restaurants and staying in great places.
"I was Miss Blackpool, Miss Pontins, to name a few, and I was in the finals of Miss England, Miss UK and Miss Britain for six years on the run."
Mrs Perfect caught Manchester United star Best's eye when her father invited him to a signing session at the non-league soccer club where he was chairman.
Best, who died an alcoholic in 2005, was soon collecting the beauty queen in his Jaguar E-type for a date.
"He was very handsome but I think I realised pretty quickly, even then, that he was a troubled soul.
"He called me a few times afterwards and we maybe went on one other date but that was where it ended."
Mrs Perfect moved to New Zealand eight years ago, following her teacher daughter Jodie.
Now happily married to second husband Tim and living in Cambridge, she stays busy with her grandchildren and her parents, Alan and Vera Pickering, who also emigrated.
- APNZ