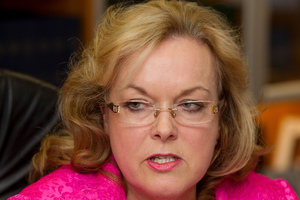 More changes to electoral laws will be made before next year's election including closing a loophole which enables parties to hide donations until after election day.
Justice Minister Judith Collins also indicated she would look at bigger changes after the election, including whether police should continue to handle electoral offences.
This follows complaints that the police rarely prosecute and are slow to deal with cases.
Ms Collins this week released the Government response to recommendations for changes to electoral law after a review of the 2011 election, and said non-controversial changes which had broad support would be made in time for next year's election.
Those included ending an exemption which allowed party workers to wear party rosettes on election day - the biggest source of complaints from voters to the Electoral Commission on election day.
Ms Collins also intended to clamp down on the use of undisclosed loans after the Electoral Commission raised concerns that making loans which were later written off, rather than donations, could be used to dodge disclosure requirements.
"I think that's quite important because clearly the use of loans rather than donations, when the loans are later forgiven, is a way of avoiding the laws the rest of us have to comply with."
The Electoral Commission requested the change after Conservative Party leader Colin Craig financed the party's campaign with a loan of more than $1 million which he wrote off after the 2011 election.
Electoral law specialist Graeme Edgeler said the most significant change recommended by the select committee was for enforcement powers to be handed to an agency other than the police to deal with.
Ms Collins said concern had expressed about the lack of prosecutions in seemingly blatant breaches of the law, and the lack of speed with which which cases were handled.