Army admits failing to provide safe work environment for soldier who died on training exercise at Waiouru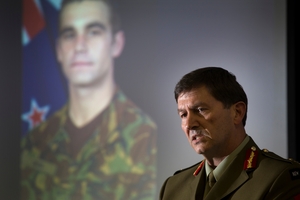 After Private Michael Ross went missing during an army training exercise, his family clung to the hope he was playing with them and would turn up and surprise them.
It was more than a week before his body was found on the bottom of Lake Moawhango, near Waiouru, after he fell from a boat in September last year, weighed down by his gear.
The army has paid Private Ross's family $241,000 in reparation, and pleaded guilty at the Auckland District Court yesterday to a charge of failing to provide a safe working environment for the soldier.
The sentence will be imposed next week.
The army acknowledged the 29-year-old was let down by failures in Defence Force equipment.
Private Ross was flung from an under-inflated Zodiac craft as he was returning from a training exercise on the lake.
In court, Private Ross' aunt Marty Rogers read a victim impact statement on behalf of all of his cousins. "We felt haunted by the thought of his body on the bottom of the lake," she said. "His life was taken - not by his own actions, he was robbed."
While the family were not angry at the army, they were deeply saddened by what had happened, she said.
Yesterday army lawyer Craig Ruane said it was not possible for the judge to make a finding of culpability but Department of Labour prosecutor Saar Cohen-Ronen said the court was the only place where such a finding could be made.
"There were so many errors made that we can't identify a person or an admission that led to the death of Private Ross.
"The errors are systematic. They cover different levels of people."
An army court of inquiry finding was damning and found widespread failures in safety protocols. The redacted version released to media revealed that the soldiers had been given no training in the life jackets on loan from the navy and the Zodiacs had not been maintained.
Army head Major General David Gawn told reporters that he felt embarrassed when he read the report and felt that the army had let down every parent who had entrusted their sons and daughters to the force.
He said there were systematic failures, but individuals could face a military police investigation.
Defence Minister Jonathan Coleman said the Defence Force's external review of health and safety would report back in a few weeks.
Labour's defence spokesman Phil Goff said the "catalogue of errors that led to his death is appalling."
- APNZ