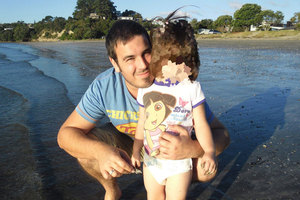 The family of a couple apparently making false agreements to buy luxury homes and cars say they had not given them a large inheritance.
Blair Bawden, 23, told car dealers and real estate agents that he owned a cattle farm on the Hokianga Harbour.
He said a relative had died and left him the farm.
The farm is owned by Mr Bawden's father's cousin, John Bawden and his father Stanley Bawden, who are both still alive.
John Bawden said Blair had not been left any money or a stake in the farm. He said he hadn't seen him in years.
Blair Bawden had told family he and fiancee Toni Trethewey, and her 4-year-old daughter, were unfairly dismissed from their rented homes - on Garton Rd in Massey, and Laura Jane Drive in Silverdale - and he was taking the landlords to court.
It is understood he said he had won a large payout.
That's when he started viewing luxury properties in Whangaparaoa, even winning the auction for one and making an offer on another - before disappearing when it came time to pay.
It was revealed that Mr Bawden also visited car dealerships making offers on eight cars including a $140,000 Maserati GranTurismo.
But a Tenancy Tribunal decision shows the couple owe $3288.29 in rent to his Garton Rd landlords and $1248.57 to the Laura Jane Drive landlords.
Herald inquiries also reveal Mr Bawden was fired from Warkworth Tanks where he worked as a labourer because of "poor workmanship".
When contacted last night and asked about the allegations about him, Mr Bawden said: "I think it's shocking ... I am not making any comment."