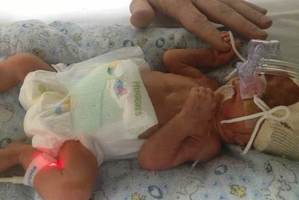 In just two days almost $50,000 has been raised to help the family of baby Lily Hewgill, born three months early while her parents were in transit in Shanghai last week.
Lily, now six days old, was born to Auckland couple Greg and Amy Hewgill while they were on a short stopover on their way home from a trip to Europe.
Mrs Hewgill was only 27 weeks pregnant when she went into labour suddenly.
Lily is in an incubator and on a ventilator to help her breathe. Because she was born so early, her lungs and other organs are underdeveloped and she is on antibiotics to fight a serious infection.
Yesterday the Ministry of Foreign Affairs and Trade issued Lily her emergency travel documents, meaning she can come home as soon as she is cleared by her doctors in Shanghai.
She is being regularly assessed and is in a stable condition.
Mr and Mrs Hewgill have been posting updates about their plight and Lily's condition on a fundraising website set up to help cover their costs while they are in China.
They must prepay all of Lily's hospital treatment and fund their own accommodation, food and travel between their hotel and the hospital.
Mr Hewgill thanked supporters for their donations. By 5pm last night, the amount donated through the fundraising page was $48,612. The couple said offers of local support had been "amazing" after people learned of their situation.