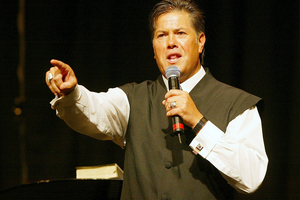 Destiny Church leader Bishop Brian Tamaki has criticised an Education Ministry decision to decline its application to change its South Auckland school into a charter school.
Bishop Brian could not be reached for comment but on Twitter said: "If any 4 of the successful partnership schools chosen by Hekia Parata are weaker in critique than Destiny School then discrimination happened".
Bishop Tamaki's spokesman Richard Lewis would not put questions to him, saying he was on the road.
The church was told on Tuesday its application had been unsuccessful, Mr Lewis said.
Destiny had not received an explanation for the decision but was invited to discuss the strengths and weaknesses of its application with Ministry of Education procurement officer Drew Preddy.
Destiny was told in June it had been short-listed and was invited to Wellington to give a presentation to the government review team.
The church applied to transition its Destiny school in Wiri, South Auckland from a private school to a partnership school.
The school is a year 1-13 school and 120 of its 150 student are Maori. Parents pay fees of up to $75 a week and the church also put resources into the school.
Another school in Auckland looks set to be one of the few schools set up in Auckland.
Alwyn Poole of the Villa Education Trust, said he was contacted by Mr Preddy this week and told him they were still in the running to be one of the first charter schools.
The trust, which currently runs Mt Hobson Middle School, has made three applications to set up a charter school in either West Auckland, South Auckland and Wanganui.
"What we have heard is good news, rather than being told that we haven't got an opportunity, like others clearly some other groups have. We understand that we are still progressing - but that's the only information that we have and we've been promised more information in the near future," Mr Poole said.
He said he expected any acceptance would involve a scaled back version of its proposal.
The Government will announce the sponsors of the schools in August. It received 36 applications from organisations wanted to set up charter schools.
- APNZ