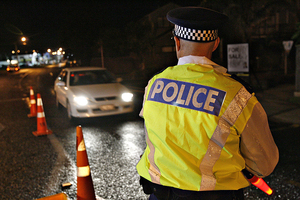 A woman kicked a police officer in the crotch during an attempted breath test and spat "globules" of mucus on him in a display of violence labelled "appalling" by a judge.
Roberta May Myrtle Harrison, 44, of Napier, was charged with assaulting police, giving false details, refusing to accompany a police officer, refusing to give a blood sample and resisting police.
Harrison pleaded guilty to all charges when she appeared in Napier District Court yesterday.
Judge Richard Watson said he has seen hundreds of drink driving cases but never a reaction like this.
"I've been a judge for 23 years and have dealt with a huge number of drink driving charges. Never in my experience have I read a summary such as this, where you reacted so violently in response to an officer carrying out his duties to keep the road safe."
A police summary of facts said Harrison's partner was stopped for drink driving about 7.40pm on July 21.
Harrison was in the car at the time and was described by police as "very abusive".
She was warned about her vile language before police gave the keys to another person in the car and took Harrison's partner away to be processed.
He was dropped home by police shortly afterwards.
Less than an hour later, Harrison was seen driving the same car down Lister Place in Maraenui.
Police followed the defendant into her driveway and attempted to speak with her.
She refused to undergo a breath test and unleashed a "relentless barrage of abuse" at Sergeant Cameron Donnison.
He advised Harrison she would need to accompany him to the police station for an evidential breath test or a blood test.
Harrison refused and amidst more "vile abuse" she ran to her front door and tried to unlock it.
When Mr Donnison attempted to arrest her she kicked him in the crotch in what was described as a "forceful right foot kick, similar to a rugby punt".
With the help of Harrison's partner, Mr Donnison again attempted to arrest her.
She kicked him a further five times to his upper thigh.
Mr Donnison managed to get one handcuff on and attempted to lead her to the waiting patrol car.
Back up arrived and it took several police officers to restrain Harrison in the back of the car.
The summary said: "The defendant's aggression was such that it took several minutes to be able to control her and restrain her to be transported back to the Napier Police Station."
Mr Donnison said Harrison attempted to kick him a further 20 times and spat "thick globules" of mucus and saliva on his face.
At the police station she refused to get out of the car and had to be forcefully removed by officers.
She refused to provide her details and continued to abuse officers, again kicking Mr Donnison to his knees and ankles.
She was eventually processed by police and was being led to the cells when she shoved Constable Natasha Baxter.
Police said she declined to make any comment in relation to her actions and continued to abuse police for several hours while in the cells.
Defence lawyer Philip Jensen said Harrison was deeply remorseful for her actions and felt the best way to show her regret was to plead guilty at the first opportunity.
She had been dealing with personal problems in the months beforehand, including the death of a friend.
He likened her outburst to an exploding volcano.
"The volcano rumbled and exploded. A sheer explosion of emotion."
Mr Jensen suggested an emotional harm reparation payment to the officers involved.
Judge Watson said while he could understand it had been a traumatic time for Harrison, he could not understand the link between the events of the past few month and the incident that took place.
"I can only assume you had been drinking."
The "offending escalated" when Harrison spat at the Mr Donnison.
"The problem with that is that no one knows what might have been contained in that saliva. Hepatitis B or hepatitis A or something worse. All of which are transferred in that way."
He said Mr Donnison would have to wait for the result of a blood test to make sure he had not contracted anything.
Judge Watson sentenced Harrison to 120 hours' community work, a $200 fine and disqualified her from driving for six months. A tearful Harrison apologised as she left the court.
For more articles from this region, go to Hawkes Bay Today