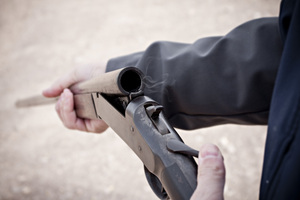 Police are urging gun owners to be vigilant in locking up their weapons after a spate of firearm thefts in the Waikato.
District Firearms Officer Richard Plas said over the past three weeks three rural homes in the Eastern Waikato had been left unlocked while the owners were out and unsecured firearms stolen.
"The burglaries have occurred in the Paeroa, Karangahake and Whitianga areas and in each incident four firearms of various calibres have been taken with the most recent occurring last week.
"With these burglaries in mind, police wish to remind firearms owners that it is their responsibility to ensure that their guns are secured against theft.''
Mr Plas said firearm ownership was a "privilege not a right'' and it came a fair amount of responsibility on the part of the gun owner to keep their firearms secured and notify police of any change address.
"Police investigate all instances of firearms theft and where it has been found that the gun owner has been negligent then it is possible that their Firearms Licence will be revoked.''
To secure firearms against theft, gun owners could use a solid steel gun safe firmly secured to the building, keep that safe and guns out of sight and install a burglar alarm, Mr Plas said.
Police also recommended removal of a part of the gun, such as the bolt, which would ensure that if it was stolen the gun could not be used by the thief or any other criminal who might acquire it.
Meanwhile, Mr Plas said anyone offered cheap firearms for sale should consider they were helping to fund the criminal cycle and might in fact be making themselves the next potential victim.
"Time and time again Police carrying out searches of properties linked to organised crime and gangs encounter firearms in possession of unlicensed offenders.
"These offenders keep details of who they sell and obtain firearms from, by buying 'off-ticket' firearms you are funding their activities and placing yourself at risk.''
Legal requirement for gun owners:
* they are not put in a place where a child or unlicensed person has access to them;
* ammunition must be stored so that if a person gains access to the guns they are not also able to access the ammunition; and
* no firearms are left in any vehicle that is unattended.
- APNZ