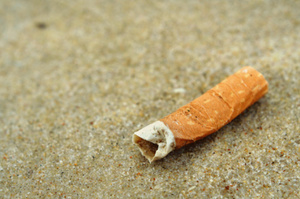 The Cancer Society says Auckland City Council should introduce its ban on smoking in public three years earlier than planned - making the city smoke-free by 2015.
The council's regional development and operations committee yesterday approved a three-stage policy that will ban smoking in all public places across the city by 2018.
However, Cancer Society Auckland says the public wants action sooner.
Research conducted earlier this month by Wyllie & Associates and Reid Research, on behalf of the charity, found 64 per cent of Aucklanders wanted smoke-free public places by mid-2016 or earlier.
The charity's health promotion manager, Beth Jenkinson, said: "Cancer Society Auckland commend Auckland Council on the adoption of this smoke-free policy but are disappointed they have not listened to the public who support the time frames being brought forward to 2015."
The policy was approved after feedback from local boards and other stakeholders and the draft policy was presented to the Parks, Recreation and Heritage Forum in May. It contributed to the national goal of a smoke-free New Zealand by 2025.
A smoke-free Auckland means anyone who lights up would not be penalised, but people will be urged not to smoke around children or in areas where people are gathered. A bylaw will be considered to bring in penalties in 2016.
Smoke-free Auckland
Stage 1: Smoke-free from this month: Outdoor facilities such as stadiums, swimming pools, playgrounds, skate parks, sports fields and parks and reserves; public outdoor areas associated with the council, including service centres, local board offices, libraries, community facilities and halls, museums, leisure, recreation and arts centres; and transport areas, including train stations and platforms, bus stations and shelters and ferry terminals.
Stage 2: Smoke-free from May 31, 2015: Shared spaces and all plazas and civic squares
Stage 3: Smoke-free from May 31, 2018: Areas around sports clubs, "al fresco'' dining areas, urban centres, public beaches and common areas of council housing.